20th September 2013
Perm makes the most of her lot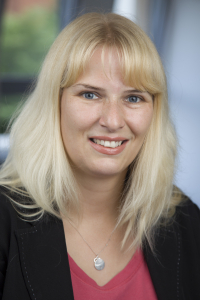 Perm Daley, a key member of the auction team at commercial property agents SDL Bigwood, has been promoted to Associate Director.
It marks major career progress for Ms Daley who joined the then Bigwood in 1996 as a secretary.
She said: "Naturally I am very pleased to have been offered this step up.
"I am well into my second decade with what has become SDL Bigwood and thoroughly immersed in the
Midlands property world. I very much enjoy what I do – it is hard, sometimes challenging, work but full of rewards.
"SDL Bigwood is expanding all the time and has big ambitions. It is good to be a part of such a forward-thinking business."
Working first as a secretary to Nigel Gough, then Richard Stowe, who was at that time managing director, it was when she began with then chairman Arnold Shepherd that opportunities began to open up and she became involved with the auctions.
Today her role includes preparing the catalogue, organising the auction venue, liaising with clients and solicitors, making sure all contracts are in place … and a great deal more.
"It is really about making sure that everything is in order for the auction date," she noted.
She has seen the number of lots double – from an average of about 60 and highs of 80 to 120-130, with 136 currently standing as the record.
SDL Bigwood's 2011 auction sales totalled more than ?46 million, 18 per cent up on 2010. Auction rooms are regularly packed out with 500-1,000 people, all seeking to capitalise on great value properties.
And then last year Birmingham-based Bigwood, which has a 160-year-old heritage in the city, took a giant leap forward by merging with Curry & Partners, another Birmingham firm of chartered surveyors and property management consultants, to create what is believed to be the largest independent agency in the Midlands – an ?8 million fee income business with 125 staff.
Rory Daly, SDL Bigwood joint managing director, said: "This promotion gives me a great deal of satisfaction. It shows that even when you start pretty much at the bottom if you put in the hard yards, think for yourself and are prepared to take responsibility then you can progress to a senior level.
"Perm is a great example to young people today of what can be achieved if they really want to go for it.
"She got her chance, made a name for herself and is now very much in charge of the auction engine room. She has personally had a great deal to do with the success of the auction department."