2nd December 2020
North East properties take longest to sell – but help is at hand for estate agents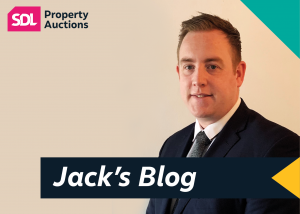 Latest figures from Rightmove show that homes take the longest to sell in the North East. Here Jack Tolchard, our North East Regional New Business Manager, shows you how selling by auction can speed up the process.
Selling a property may be getting faster but here in the North East we're still lagging behind. Despite the time from marketing a property to securing a buyer reducing to a national average of 49 days, in the North East it takes an average of 56 days – the longest of any of the UK regions.
This dubious honour is highlighted in Rightmove's November House Price Index, which admittedly does show a slight improvement (0.8%) on the previous month's figures and an 8.6% improvement on last year.
But a tiny percentage of improvement is no consolation for estate agents, who put in much of the legwork on a property many months before they see any return from their efforts.
Don't forget this is just the time required to secure an offer. Selling a property on the open market is well known for being a long, laborious process and even once a buyer is found, it can take many weeks or even months to reach the point when the seller can hand over the keys – and the agent gets paid for their efforts. The more properties there are in the chain, the greater the risk of delays and fall-throughs, and the greater the risk of the seller withdrawing the property from sale out of sheer frustration.
By comparison, selling by auction is lightning fast. With exchange taking place on the fall of the hammer and completion 20 working days later, the vast majority of properties sold in our National Property Auction at the end of October have already completed.
They include 156 Sheriff Street in Hartlepool, a two bedroomed mid-terraced property on the edge of the town centre, which sold for £22,500 from a *guide price of £16,500+, and 24 Kimberley Street in Hartlepool, a three bedroomed mid-terrace which sold for £27,500 from a guide price of £22,500+.
Even taking into account the Christmas holiday, most properties which sold in our November National Property Auction last week will either complete in 2020 or at the latest 12th January. We operate at speeds which would be unthinkable in a private treaty sale and estate agents just can't compete.
Thankfully, they don't have to. Our partner estate agents are able to offer auction sales to their customers by working with us rather than in competition.
We know it's been a difficult year for estate agents, who are now dealing with a deluge of enquiries as a result of pent-up demand and the rush to take advantage of the stamp duty holiday.
Diversifying into auction sales can ease the load, as we do all the work. We help agents identify which properties are suitable for auction, we make all the arrangements with sellers and can get properties listed on our website in just a few hours. We can add properties to our website at any time, in our monthly Auction Events or in our Timed Auctions which run on the website every day of the year. In this way we have sold properties in a matter of days or even hours.
And the best news of all for estate agents? They get paid within just seven days of the sale being agreed, instead of potentially waiting months for completion.
Auctions aren't just for rundown properties which appeal only to investors and developers. Over the past few years, auctions have been going mainstream – and the events of 2020 are speeding up the process.
I am working with estate agents across the North East, selling a growing number of family homes. Private homeowners are realising they can get a quick, hassle-free sale which, thanks to the reassurance of the reserve, doesn't mean compromising on price. And agents are both keeping their customers happy while boosting their income.
Finding a buyer shouldn't take 56 days. Why not get in touch to find out how partnering your estate agency with us can help. You can work out how much you could earn by using our income calculator or find out more by calling the team on 0345 222 0197.