30th April 2020
Norfolk land attracts 177 bids in online property auction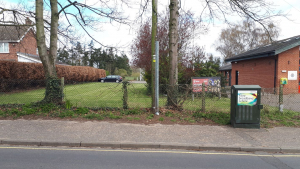 A plot of land in a Norfolk village has sold by online auction for more than 20 times its *guide price.
The land adjacent to the fire station in Church Road, Harling, Norwich, attracted a staggering 177 bids from 12 different potential buyers, selling for £42,400 from a *guide price of £2,100.
The plot is considered suitable for building, subject to planning permission, and was sold on behalf of Norfolk County Council by SDL Auctions in an unconditional online auction on Thursday 30th April.
Andrew Parker, managing director at SDL Auctions, said: "This is a fantastic result for our seller and we couldn't be more delighted for them. It just shows what can happen at auction when several people have their hearts set on the same lot."
The land is in a prime location next to the village fire station in East Harling, which is well served with amenities and leisure facilities. Shops include a grocery store, post office, butcher's shop and chemist, with a fish and chip shop, pubs, a medical practice and care home also serving the community. Leisure facilities include a bowls club and sports and social club and, in normal circumstances, an annual fete and various activities at the village hall.
The village has a strong community feel, with a team of 80 volunteers helping out vulnerable and isolating residents during the Covid-19 crisis.
Andrew added: "Even at 20 times its guide price, this plot of land is an excellent buy, particularly if planning permission can be obtained for a family home. East Harling is a beautiful part of the country to raise a family, with a thriving community, great amenities and surrounded by beautiful countryside. It also has excellent transport links and is only an hour's drive to the coast."
The village is around eight miles east of Thetford and 25 miles from the city of Norwich. Harling Road railway station is just two miles away and links to Thetford.
SDL Auctions can list properties in an online auction at any time. To find out more about selling a property at auction, call the team on 0800 304 7879.