15th June 2020
More legislation for landlords means safer homes for tenants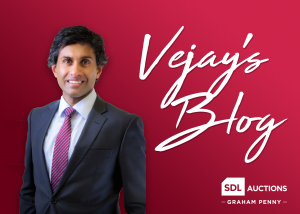 New electrical safety regulations were published for landlords in England at the beginning of June. Here Vejay Pal, head of auctions West Midlands, explains which properties are affected and what you need to do to comply.
More landlord legislation? I'm afraid so – although this time it has been designed to help keep tenants safe, protecting your investment along the way.
In a nutshell, in the same way that landlords must have regular gas inspections carried out on their properties and provide safety certificates to tenants, they must now do the same for electrical installations. Failure to comply could result in a fine of up to £30,000.
According to the Electrical Safety Standards in the Private Rented Sector (England), electrical wiring and electrical installations in every rented property must now be inspected and tested by a qualified and competent person at least every five years.
The industry standard is an Electrical Installation Condition Report (EICR), which costs around £100-£250, depending on the size of the property.
The inspection should cover wiring, plug sockets, light fittings and the consumer unit, as well as any permanently-connected equipment such as showers and extractors. It doesn't cover non-permanent appliances such as fridges; you should still arrange PAT tests on any items you provide, supplying tenants with a record. As always, tenants are responsible for ensuring their own electric appliances are safe.
The EICR will detail the results and date for the next inspection which must be provided to existing tenants within 28 days or new tenants before the start of a tenancy. Any work required must be completed within 28 days, or sooner if specified in the report.
And just as with a gas report, you must be able to supply this to the local authority within seven days of being asked.
Which properties are affected?
The new rules apply to almost all rental properties in England, including Houses in Multiple Occupation (HMOs). They cover assured shorthold tenancies and licences to occupy, but not properties let on a long lease of seven years or more, or if you are letting to a lodger.
New-build properties should come with an Electrical Installation Certificate (EIC), which remains valid for five years, after which five-yearly inspections should be carried out.
The legislation is specific to England but similar rules have been in place in Scotland since December 2015. In Wales, five-yearly inspections must be carried out on HMOs and are highly recommended for all other rental properties.
When does the new legislation begin?
1st July 2020 for new tenancies.
1st April 2021 for existing tenancies.
The rules come into force at the beginning of July for all new tenancies, which means if you buy a property to let in our June auction – or purchased one in May which you have not yet let – you will need to arrange for an inspection to be carried out before you can let it to new tenants.
For any rental properties you already own, you have until 1st April 2021 to comply. This is the same for any tenanted properties you purchase unless you start a new tenancy before April, although you will likely want to get everything checked as soon as possible to ensure it is safe.
It's all relatively straightforward but I appreciate this is yet more legislation for landlords and, for some, it could be the final straw. If this sounds like you, there is still time to sell your property in our June auction and we would be happy to discuss your options with you.
Social distancing is no barrier to selling property. Since switching our room auctions to monthly national auctions broadcast via our website at the beginning of the lockdown period, we have sold 252 lots and raised more than £31 million for sellers, with lots selling for an average of 16% above their guide prices.
To find out more, or to request a no-obligation auction valuation, please contact the team on 0121 233 5046 or click here.