22nd August 2013
Leading the way in the East Midlands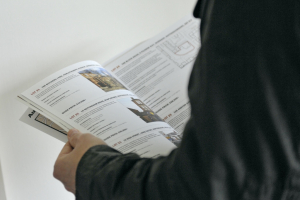 22nd August 2013 – Residential auction figures published in the latest monthly newsletter from the Essential Information Group show 516 properties went under the hammer at auction in the East Midlands during May to July 2013 and 40 per cent of them were sold by Graham Penny Auctions.
During that period Graham Penny Auctions also achieved a sale success rate of 7.7 per cent above the national average and 10.8 per cent above the East Midlands average.
The figures have been announced as Graham Penny Auctions, the Midlands number one property auctioneer*, prepares for a bumper month of auctions in September with its biggest Nottingham property catalogue to date and its biggest Derby property catalogue so far this year.
The Derby auction on Thursday 5th September at Pride Park Stadium features 83 property and land lots from across Derbyshire and further afield including a number of investment homes, a former private members club, a chip shop and a hotel. In Nottingham the auction on Thursday 12th September will be the biggest in the city to date with 67 lots on offer including city centre terraces and apartments, seaside retreats, urban family homes and even a former Little Chef restaurant.
Graham Penny, auctioneer and director at Graham Penny Auctions, commented: "We have heard many people say over the past few months that the market is picking up but with figures like these we can now really trust that it is.

"Our property catalogues are getting bigger auction on auction and our sale percentage is rising too. With September gaining on us, people are starting to think about selling properties again and the prices we are achieving for our vendors is reason enough to choose selling a property by auction."
The Essential information Group figures also revealed that more than £50m was raised in total across the East Midlands in May to July 2013, 35 per cent of which (£18,284,500) was achieved by Graham Penny Auctions.
The property catalogue for the Derby auction at Pride Park on Thursday 5th September can be viewed here and the Nottingham auction catalogue for Thursday 12th September at Nottingham Racecourse can be viewed here.
*based on essential information group statistics. Based on lots offered, lots sold, revenue raised for 2012.
Essential Information Group residential auction activity (May-July 2013)
| | | | |
| --- | --- | --- | --- |
|   | National | East Midlands | Graham Penny Auctions |
| Lots offered | 8,114 | 694 | 247 |
| Lots sold | 6,129 | 516 | 204 |
| Percentage sold | 75.5% | 74.4% | 83.2% |
| Total raised | £805,693,694 | £51,014,950 | £18,284,500 |