15th September 2021
Is the definition of property affordability changing?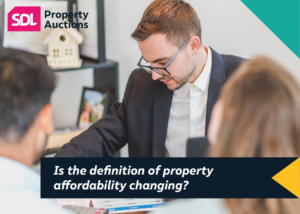 The pandemic has turned life on its head, affecting all aspects including how we work and live. One of the biggest shifts for many people of working age has been the switch to remote working. Here we examine if these lifestyle changes have changed the definition of property affordability.
How has the pandemic changed the definition of affordable homes?
Is the daily commute a thing of the past for many office workers? Working from home certainly saw its biggest ever increase in the past year, rising from 27% of working adults doing some work from home in 2019 to 37% in 2020, according to The Office for National Statistics (ONS).
This is a trend which ONS says is likely to continue, with almost a quarter (24%) of businesses planning to continue to use increased homeworking in the future, rising to almost a half (49%) in the information and communication industry. This may take the form of permanent home working or flexible working with the option to visit the office occasionally.
According to a September 2019 report in ​​SME News, the average UK commute was 62 minutes per day, with an average round trip of 23 miles. For those working from home all or most of the time, this means they no longer have to commute every day and may therefore be willing to take on a longer commute on the days they are required in the office. This opens up the possibilities of living further away from the workplace in a potentially cheaper area, or at least getting more property for their money and being able to afford a home with a spare bedroom which can be used as a home office.
Somewhat prophetically, in early March 2020 before we understood the impact of the pandemic, the Evening Standard ran an article suggesting readers may be considering leaving London "in search of more space and a bigger home" and highlighted 10 towns which London commuters may wish to consider due to their "good-value houses, fast train links and good schools".
With working from home now the norm for many, location possibilities are broadened even further for workers in London and the whole of the UK. Workers no longer need to live near to their office and can search a much wider area for their new property. Zoopla has a useful resource enabling house-hunters to find homes by travel time, allowing for a commute of up to an hour and a quarter by car, train, other public transport, cycle or even on foot. They may find, however, that although their search area has grown, property prices have too, as we reported last month.
Is property affordable in the countryside?
With demand increasing for homes away from cities, with more space for an office and a bigger garden, prices in some areas have inevitably risen, making larger family homes in the countryside less affordable than they were before the pandemic.
Rightmove has previously reported a growing trend of wealthy people relocating to the countryside from expensive areas, pushing up prices due to high demand, and its latest House Price Index (August 2021) shows that Wales is still topping the tables for house price growth, both month-on-month and year-on-year. With year-on-year growth of 10.9%, Wales is the only UK region with a residential property price increase in double figures.
However, people relocating from expensive cities can still make savings and the latest RICS Residential Market Survey (July 2021) reports on nationwide buyers capitalising on their ability to work from anywhere and heading to the North East "to get more house for their money" in the country's lowest-priced region.
Where can you afford to live?
In our recent blog, the most and least affordable regions to buy property in the UK, we highlighted that the most affordable places to live are the North West, Wales, East Midlands and Yorkshire & Humber. Even with the highest price increases in the country, affordability in Wales has not changed significantly since before the pandemic, as average wages have risen, too, according to data from HM Land Registry and the Office for National Statistics.
However, using average earnings as a guide to house price affordability has its limitations, according to the government briefing paper, What is affordable housing? It explains that earnings figures exclude part-time and self-employed workers, as well as omitting any other household income such as benefits.
The definition of affordable housing set out in the NPPF does not make reference to the proportion of a household's income or earnings that should be spent on housing costs.
This method of assessing affordability is also based on just one person purchasing a home, when in many cases, property is purchased with another person, such as a partner.
The BBC has a house price calculator, which is useful because, instead of basing affordability on earnings, it asks what buyers can afford to put down as a deposit and spend on monthly mortgage payments. However, there is a big difference between knowing which locations are affordable and actually finding a property to buy, with Rightmove reporting that available properties for sale are still at a record low.
What is affordable housing?
There is a distinct difference between a house someone can afford to buy and one which is considered to be affordable housing, specifically targeted at those who cannot otherwise afford to get on the property ladder.
There is no one definition of affordable housing although the government's National Planning Policy Framework broadly defines it as property which is sold at a discount of at least 20% of the market value.
There are various affordable housing schemes available, including the Help to Buy Equity Loan scheme for first-time buyers of new-build homes and buying the Shared Ownership scheme, which is open to certain buyers with a household income of £80,000 a year or less (£90,000 in London).
What is the Affordable Homes Programme?
The Affordable Homes Programme provides grants to developers building affordable homes for rent or sale. Under the scheme, Homes England is providing £7.39 billion to help create up to 130,000 affordable homes outside of London by March 2026. A separate affordable homes scheme is being operated in the capital by the Greater London Authority. Most of these new homes will be built by housing associations but developers can apply for the funding, too; find out more here about becoming an investment partner for the Affordable Homes programme.
Are you looking for a new home or a development opportunity to create new homes? Why not use our Property Finder to browse the properties we have for sale by auction. To find out more about selling your own property, click here or call our friendly team on 0800 304 7879.