11th October 2019
Is now a good time to invest in commercial property?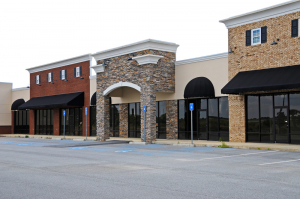 Because the UK commercial property market, and in fact the property market in general, fluctuates so much, it can be difficult to truly know when you're making a good investment. However there are some indicators we can look out for that give us a good idea of whether the return on investment will be worth it.
In this post, our Commercial Auction Valuer for the East Midlands, Nick Trow, takes a look at the current state of the UK commercial property market to discover whether it's a good time to invest in this space right now.
Brexit uncertainty
Let's get this one out of the way. We know you're tired of hearing the word 'Brexit', but at the moment we simply can't get away with discussing the commercial property market without mentioning it.
As it stands, it seems that in the case of the market for both buyers and sellers, people are taking a 'wait and see' approach. This is understandable, however it may not be the best approach. When it comes down to it, regardless of the outcome, there will be investment after Brexit. Businesses will continue to rent office space; retailers will continue to need commercial premises on the high-street and all kinds of businesses will continue to have demand for warehouse space. So right now it's a good idea to look beyond our exit from the European Union. In fact, taking warehouse space as an example, the dip in the value of the pound since the Brexit vote has actually stimulated demand for warehouse space as British exports have become more competitively priced.
It's also worth pointing out that there are many other factors that can also make a commercial property investment more profitable; such as location, accessibility, distance to major cities and even developments in the area. So while you can use the state of the market to guide you, it isn't the only thing to consider as various other aspects can determine whether your investment will be a good one or not.
Ultimately, while there is likely to be some short-term impact, people will continue to invest in commercial property (both UK buyers and overseas buyers) and so if you purchase the right property, then there is opportunity to capitalise here.
Industry and subsectors
Not all commercial property is created equal. Each industry and subsector has its own ebb and flow and so the type, size and location of commercial property that is a perfect investment will be completely different for every type of business.
The great thing about commercial property investment is that our needs and preferences are constantly changing, and this means that there are almost always opportunities out there to make a great investment.
Taking the retail sector as just one example, the 'death of the high street' has been appearing in news headlines for the past few years. However, the Director of Ediston Property Investment Company made a valid point during a discussion on the This is Money Investing Show, that the retail sector isn't in decline, it's just changing and retailers need to get on board with this change to survive and thrive.
While some high streets and shopping centres are suffering, out of town retail parks continue to perform well. This comes as consumers want everything fast, so ease of parking and getting everything they need in one destination is far more appealing than traipsing the length of a town centre and back. This demonstrates just how important sector and local knowledge is when it comes to choosing the right commercial property to invest in – whether you're investing in retail space, office space or any commercial property.
The below data from Cushman & Wakefield shows how rent £/sq ft as changed year on year (2018 vs 2019) and quarter on quarter (Q4 2018 vs Q1 2019) to give an idea of how the major high streets are faring: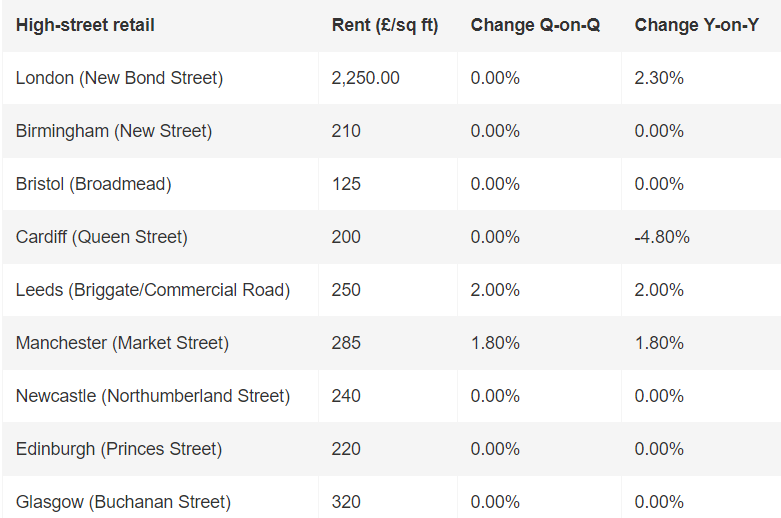 Occupier demand and availability
If you're considering investing in commercial property then you will want to be sure that you will quickly find a tenant and that it will be occupied in the long-term. Ultimately, this generates your income, which is why it's a good idea when seeking an investment opportunity to keep an eye on industries that have increasing occupier demand – i.e. there is demand out there from individuals and businesses that want to rent space.
According to a 2019 survey conducted by the Royal Institution of Chartered Surveyors (RICS), occupier demand in Q1 of 2019 posted a net balance of -13% with a modest decline in overall tenant enquiries. This however, can be attributed solely to the retail sector with a net balance of -57%.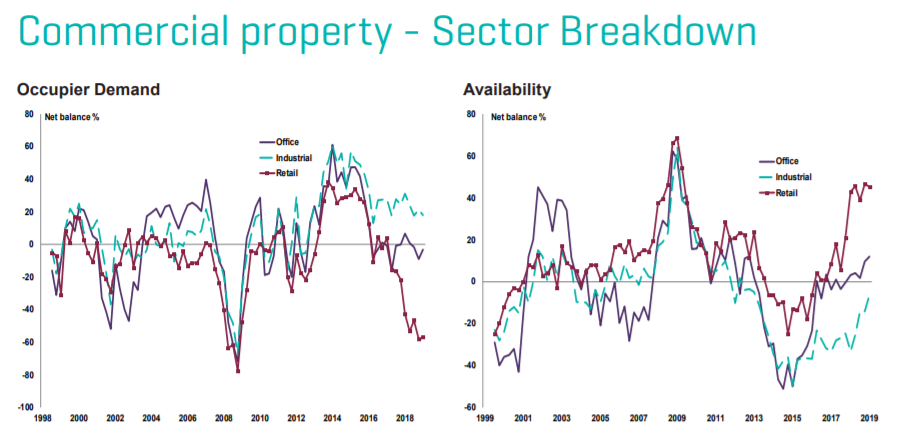 (Source: RICS 2019) 
In other areas however, demand is up, particularly for office space which remained stable in Q1 after a slight fall towards the end of 2018. A big worry when investing in property is that it will end up lying vacant, as this can result in loss of income. However industrial spaces and offices have seen a steady decrease in the number of vacant spaces which translates to less competition.
The industrial sector continues to see a steady rise in occupier demand, so office space and industrial property are certainly areas to consider when looking to invest in commercial property.
Although occupier demand is all well and good if you already have a property portfolio, if you're looking to invest then you also need to keep an eye on availability. When the availability of a certain type of property is high, this can bring the sale price of a commercial property down in your favour – as with plenty of competition on the market, you might just be able to grab a bargain – particularly if you already have a tenant in mind for the property or if you are planning to occupy it yourself.
Rent expectations & yield potential
Again, rent expectations and yield potential is dependent on many factors. The 2019 UK Commercial Property Market Survey by RICS found that growth is expected across both the prime and secondary areas of the industrial market, but that there is a clear divide between prime and secondary space in the office market.
Prime space is expected to deliver steady rental growth and improved yields while projections remain slightly negative across the secondary market. This means that when looking to invest in office space, you should certainly be looking at the prime space at this time. Opting to invest in the industrial market at this time seems to be positive in both prime and secondary markets.
The entirety of the UK is seeing the same patterns emerge, with positive rental projections for the industrial sector and negative expectations for retail. However, while secondary offices are expected to see a decline in rental growth in the South, the North is likely to see marginal growth. Bear in mind the location you wish to invest in, as this could well determine the profitability and return.
So is now a good time to invest?
The key is choosing the right sector and the right location in order to prosper. We can see that the industrial and office markets are both prosperous right now, and while not all major high-street retail spots are faring so well, if you get it right, commercial property investment can be a very profitable opportunity. Remember to look out for any key developments in the area you wish to invest in, as these can make all the difference between a sound investment and a bad one.
If you're interested in investing in commercial property, a great way to do it is by buying at auction. This is because the costs are often lower, and there is potential to find more unique properties than you might find on the open market.
Take a look at the current commercial properties we have listed for auction by filtering the 'property type' field by 'commercial property' and get in touch with us to learn more.