25th September 2020
In local lockdown? Here's how you can still sell your property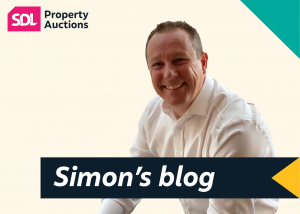 You may feel the pandemic has scuppered your plans to sell your home this year – especially if you are living under a local lockdown. Here our Key Account Director Simon Oldfield explains how SDL Auctions could help you get a quick sale at the best price – without breaking the rules.
It's now six months since the initial lockdown, and I think it's fair to say most of us thought life would have returned to something a little more normal by now.
However, around one in five of us has experienced, or is still living under, a local lockdown, presenting a variety of practical, financial and emotional challenges, with homemovers no exception.
Something that seems to be spreading even faster than the virus is confusion about what we can and can't do. This week has seen a new raft of restrictions, while varying degrees of local lockdown currently apply in parts of the North West, North East and Midlands, among others. If you're not sure what's happening your area, you can find out here:
The good news is that at SDL Auctions we can help you cut through the confusion and sell your home, no matter what restrictions are in place and without putting anyone at risk. We have experience of selling properties under the strictest conditions, and have been doing so successfully for six months.
Our April and May national property auctions were held at the height of the lockdown, when property viewings were not possible in most cases. Estate agents were forced to close their doors but we continued to operate remotely and safely. As a result, we sold 198 properties in our April and May auctions and raised £28.5m for sellers, all while we were largely housebound.
More recently, we have sold properties in many local lockdown areas such as Leicester, where 691 Welford Road, an extended semi-detached house, sold in our August national property auction for £256,000 from a *guide price of £175,000+.
In the same auction, a three bedroomed detached house at 25 Keldy Close in Wolverhampton sold for £138,000 from a guide price of £110,000. For both of these properties, we provided video tours so potential bidders could view them safely.
In addition to our monthly national property auctions, we sell properties round the clock in single-lot timed auctions. Only last week we sold 12 Sowood Fold in Sowood, Halifax in West Yorkshire, another area under local lockdown. Sold in just four days in a timed auction, the 18th Century detached stone cottage drew eight bids from four different bidders, achieving £158,000 from a guide price of £145,000.
Best of all, auction sales have almost zero risk of falling through, and completion takes place within 20 working days or, in some cases, 40 working days. Either way, it's considerably quicker than selling on the open market.
How do you sell your home from lockdown?
It's important to remember that at SDL Auctions we have many years of experience selling properties remotely. It is not unusual for our buyers and sellers to do so from a distance – sometimes from abroad – without us ever meeting them. In most cases, these long-distance clients are investors, but technology has allowed us to adapt this tried and tested process for private homeowners.
Even while working from home, our team can be contacted on our usual telephone numbers. We appreciate many of our sellers are new to auctions so we are more than happy to talk you through every step of the process.
Desktop valuations
This process begins with a remote – or desktop – valuation, which is standard practice for us. We are highly skilled in this area and use a combination of expertise and backroom platforms only accessible by estate agents to come up with a price which will attract bidders while achieving what your home is worth. You can read more about no-contact valuations in this blog written by my colleague Andy Thompson.
We then discuss which method of sale is best for your property; our national property auction where we regularly offer over 200 lots on a single day, or timed auctions for single lots which run round the clock every day. Both methods have their merits and we are happy to discuss which is most suitable for your property and timetable.
Your property will then be marketed as normal with a sale board, a listing on our website and on the major property portals. Properties sold in our national property auctions will also feature in our bumper catalogue, which this month again features more than 200 lots.
Viewings
If you are under local lockdown, physical viewings may only be possible if the property is vacant. These will be carried out using all the necessary PPE and precautions. Otherwise, we will create an immersive 3D virtual tour of your property using the latest technology. These allow viewers to explore every area of your property and provide an experience as close to an in-person viewing as possible. We will also take many photographs to show off your property to its best advantage, or indeed our sellers can provide us with their own photos.
In our national property auctions, your property will be conducted by our experienced auctioneers and live-streamed to thousands of viewers with bids accepted by phone, by proxy or over the internet.
The final selling price
Many first-time auction sellers worry about being forced to accept a price lower than they are happy with. I'm happy to say this fear is unfounded as you can set a reserve and your property will only sell once it reaches this price. And whichever method of sale you choose, due to the nature of auctions, your property will attract competitive bidding, meaning you get the best possible price.
As you can see, there's no reason to let the pandemic prevent you from selling your home. Despite the challenging conditions, we have helped 1,000s of sellers achieve their aims this year – and would love to help you, too. To find out more, why not get in touch with our friendly team for a free, no-obligation auction valuation? Just click here or call 0800 046 5454.