22nd January 2020
Impressive growth for SDL Auctions as customers embrace choice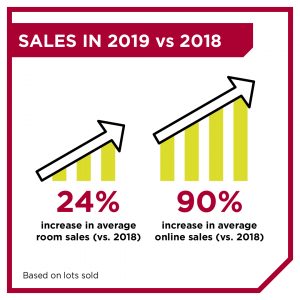 Online auction sales have proved to be the biggest success story for SDL Auctions in 2019, with sales growing by a staggering 90% year on year.
This, combined with impressive room sales growth of 24%, contributed to another buoyant year for one of the UK's largest and most successful property auctioneers.
Managing director and auctioneer Andrew Parker said the figures were a reason to be optimistic about the housing market in 2020.
He said: "So often we read negative headlines about the property market but the news is rarely as bad as the press like to portray. While private treaty sales may be struggling in some locations, our figures show that auction is definitely an area of growth, as more and more people look for certainty in an uncertain world."
The online auctions arm of the business was launched three years ago to provide greater flexibility to both buyers and sellers. By partnering with estate agents around the country, SDL Auctions offers the speed and certainty of auction to the wider property market while providing buyers with more time to secure finance, meaning auction is no longer restricted to those with the cash.
Andrew added: "In this technological age, it comes as no surprise that our online auctions department has gone from strength to strength. But we embrace technology in our room auctions, too, which are streamed live on our website, allowing buyers who cannot attend to place bids online or by phone if they prefer not to use proxy bidding."
SDL Auctions has released an infographic highlighting some of its 2019 successes. These include property sales of:
963 houses
187 commercial/mixed-use properties
139 flats
148 plots of land
Two thirds of these were sold in room auctions in Derby, Nottingham, Leicester, Birmingham and Manchester, with the remaining third being sold online.
Andrew said: "We're all about offering choices to our buyers and sellers, so they are in the driving seat and don't have to compromise. We offer property sales your way, so you can choose how you get to your housing destination."
To find out more information about selling your property by auction call the team on 0800 304 7879 or click here to request a free valuation.