9th March 2018
If time is of the essence…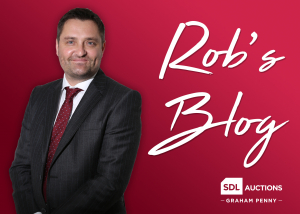 You will no doubt have heard that one of the benefits of a traditional sale by auction is that it's quick.
And it is quick; we generally market our lots for four weeks prior to the auction day, and on the fall of the gavel in the auction room contracts are exchanged and completion takes place four weeks later.
That's only eight weeks in total from instruction to the money in your bank.
However selling by auction still only accounts for a small fraction of all property sales in the UK. A private treaty sale with an estate agent is usually a seller's first port of call. But how long does a private treaty sale take?
According to February sales figures released by Rightmove, the average time to sell in the East Midlands is 65 days. That's more than nine weeks – longer than the total auction cycle – and those figures are only to a sale being agreed. It's not the time to exchange or complete, which can often be another three months longer.
That's more than 20 weeks from instruction to the money in your bank.
Much of the private treaty sales process is mirrored with a sale by auction. Both offer comprehensive marketing to active local and national buyers, both post properties on Rightmove, carry out viewings, handle offers and liaise with solicitors.
What stands auctions apart from the rest of the market is that when the hammer falls contracts are exchanged and the sale is secured, you do not enter into a sold subject to contract agreement where the buyer could pull out at any point.
Plus, one of the most common misconceptions with an auction sale is that maybe you're not going to get the best possible price. That's not necessarily true and our recent results demonstrate that with several lots selling in the auction room for much more than they were originally marketed at with estate agents.
For example we recently sold 32 Crawley Road in Alvaston, a two bedroomed maisonette, in our Derby auction for £63,000. It had previously been on the market for 11 months with a local estate agent priced at £59,950.
We also sold Flat 4, Shannon House in Allenton, a one bedroomed first floor flat, for £55,000 in December after a local estate agent had been marketing the property on the private treaty market for six months at £52,000.
If you're still not convinced, imagine if you secured a buyer, they carried out a survey on the property and it revealed issues which the buyer wasn't willing to take on. Then you have lost your buyer and you need to re-market. With an auction sale, the legal pack is created prior to the auction day allowing the prospective purchasers to do their due diligence and bid confidently.
And don't forget the whole time the house is on the market you're having to pay council tax and insurance payments as well potential losing rental income while the property lies vacant.
The auction room really could be the best route to sale for your property.
We are currently inviting entries for our next Derby auction on Wednesday 11th April at Pride Park Stadium and I'd be happy provide a free no obligation appraisal for anyone considering a sale by auction. Call us today on 01332 242 880.