27th February 2020
Husband & wife SDL Auctions team reach charity milestone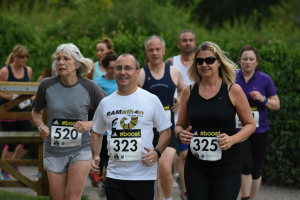 A husband and wife duo, who work together in the auctions industry, are celebrating helping to raise more than £100k for good causes.
Andrew Parker is managing director of SDL Auctions and a fellow of the National Association of Valuers and Auctioneers (NAVA), while Rachael Parker also works for the leading property auctions network as a regional property manager.
However, to mark the fundraising milestone, they won't be having a celebratory party or popping a bottle of fizz – instead they will be pulling on their trainers to run the London Marathon.
Over the past few years, Andrew and Rachael have worked together, as well as alongside their SDL Auctions colleagues, to raise more than £100k for charities across the UK. This includes hosting charity auctions for The Donna Louise Children's Hospice and child sexual exploitation charity Safe & Sound, as well as helping to arrange numerous fundraising auction balls.
Andrew and Rachael will be adding to this already impressive total by running 26.2 miles on Sunday 26 April to raise money for Make a Wish, a charity that supports children with critical illnesses, and an organisation that the couple have volunteered with for the last 10 years.
"Back in 2014, we ran the half marathon together for Make a Wish," commented Andrew. "When we worked out that we've helped to raise more than £100k, we wanted to challenge ourselves to do the full 26.2 miles and push that figure even higher.
"I've also just turned 50 and I'm certainly not one to sit back and relax, so this is a personal challenge for me too.
"We've loved working alongside so many amazing charities over the last few years. Everyone at SDL Auctions has been amazing in supporting the charity efforts of the network and I'm proud that we've been able to make a difference."
Rachael added: "We're spending a lot of time training together. It's great to be doing this as a couple as we're able to motivate each other and keep focus. Having volunteered for the last decade, we know first-hand the great work Make a Wish does to create life-changing wishes for children with critical illnesses. We'll be using that to help get us over the finishing line."
As well as regular training over the next few months, Andrew will be auctioning off a prize lot before every auction he hosts between now and 26 April to raise additional funds for Make a Wish. This got underway at the Derby auction on 14 February when the prize of a special Derby County shirt raised £250.
Andrew and Rachael have set up their own JustGiving page for their London Marathon challenge, which can be found here.