6th April 2020
Husband and wife team keep auctions running during lockdown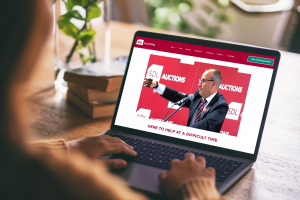 SDL Auctions has announced it will hold monthly national property auctions via live video feed to keep the industry moving during the lockdown.
Managing director and auctioneer Andrew Parker and his wife, Rachael, who is the regional property manager for the East Midlands, have stepped up to run the remote auctions from the head office in Chilwell, Nottingham. They will be the only people in the room, so social distancing will be maintained.
Andrew said: "Rachael and I are confident that, with the help of a remote team, we can keep the auction running as smoothly as ever, without coming into contact with anyone from outside our household. Viewers at home will see very little difference from our usual room auctions which have been streamed over the internet for many years."
The auctions will replace the regional auctions which had been planned to take place in Nottingham and Manchester in April and in Derby and Birmingham in May.
They follow last month's three successful auctions which were held behind closed doors in the first week of lockdown and broadcast live via the internet. Widely praised by both customers and industry colleagues, the auctions were watched by 1,850 people and raised £7.1 million for sellers, with properties selling for an average of 15% above their *guide prices.
The new-style auctions will feature properties around the country, with the first one taking place on Thursday 30th April.
Andrew will conduct the auctions from the rostrum and handle proxy bids as usual, while Rachael manages internet bidding. A remote team will take telephone bids and convey them to the auction room via Microsoft Teams.
Andrew added: "Our new national property auctions are the ideal solution as they allow us to continue to serve our buyers and sellers during these uncertain times, without putting anyone at risk. It is a sad fact of life that some people will need to sell their property, crisis or no crisis, and we are proud to be there for them when they need us."
Just as in a standard room auction, buyers will be able to place bids on the internet, by telephone and by proxy.
Andrew said: "It is important for our buyers to know that the lots will still be available to everyone, including those who are less comfortable with technology or have an unstable internet connection."
SDL Auctions is leading the way with its remote auctions, with its 'behind closed doors' model being praised for its success and professionalism.
"The success of our March auctions proved that people are more than willing to bid remotely and are just as keen as ever to buy and sell property. In fact, some of our offices have seen an increase in instructions since the pandemic began, as sellers realise we are still open for business and can offer the certainty of a set timeframe."
The first national property auction will take place on Thursday 30th April, with the second following on Thursday 28th May.
The SDL Auctions team are working remotely via their usual telephone numbers, providing the same high level of service that buyers, sellers and estate agent partners expect. To find out more about selling a property, to request a non-contact valuation, you can call them on 0800 304 7879 or click here.