2nd February 2021
How we're keeping the market moving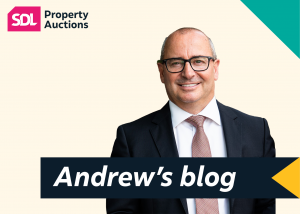 As the country navigates another national lockdown and learns to adapt to tighter restrictions, there is much debate about what this could mean for the property market. We recognise that waiting until the crisis is over may simply not be an option for some people and are committed to keeping the market moving.
Here our Managing Director and Auctioneer Andrew Parker highlights some of the many processes we have put in place to continue operating our auctions in a safe and secure manner, for both our customers and our team.
Unbroken auction calendar
We are proud to have maintained a consistent auction schedule from the very first days of lockdown. Our National Property Auctions are broadcast online each month live from our auction studio and our Timed Auctions continue to run 24/7. As a result, we are now the UK's most successful live-streamed auctioneer and our latest results are further proof of this.
Our decades of experience running auctions have shown us that selling a property is often born of necessity and this crisis is not going to change that. If anything, some sellers will have an even greater need for the speed and security provided by an auction sale, maybe due to financial issues or bereavement.
We know there will always be demand from investors, regardless of circumstances, and we're confident that auction remains the best method for achieving the best prices for sellers in today's market.
Fully remote process
We are able to handle the entire purchase or sale process remotely – meaning we can value your property, offer virtual viewings, field offers and bring it to auction with registered bidders all from home, where our team continue to work from.
Last year we had over 7,500 registered bidders in our Auction Events, we saw more than 36,000 virtual viewings and raised over £180m for our sellers from all across the UK.
Valuations
The first stage of the selling process is to carry out a valuation, which can be done without visiting the property at all. We'll call you and chat about your circumstances, to establish how quickly you need to sell, your price expectations and what type of auction sale is right for you.
When we carry out a remote – or desktop – valuation, we use a variety of sources to build up a picture of the property and location, combining it with our own expertise to calculate adjustments to the value.
We are also continuing to carry out valuations in person, however we will only do this in accordance with the current Government guidelines and where we are able to maintain social distancing measures.
Viewings
We are uploading virtual tours to our online property details wherever possible. Use the Property Finder on our website and select the property you're interested in to watch the virtual viewing. You're also able to share this link with any tradesmen or surveyors if required.
If you would still like a physical viewing after you've viewed online, then please contact our team to make arrangements.
Bidding
Our remote bidding options have been popular with our buyers in lockdown as it allows you to place a bid in a way that suits you, even if you're juggling working from home or home schooling.
In our live-streamed National Property Auctions we offering bidding online, on the phone and by proxy and without the need to travel you can log in to the broadcast as your lot is being offered without having to sit and nervously wait your turn.
Our Timed Auctions are open to bidding 24/7, providing even more flexibility for our buyers. Plus, we've also got our Buy it Now lots where the seller sets a sale price to suit them and once live, bidders can do exactly that – buy it now!
As the country continues to manage the unpredictability of the pandemic, we will continue to offer the certainty of selling under the hammer. To find out more, call our friendly team on 0800 046 5454.