4th June 2021
How property auctions could become the first choice for sellers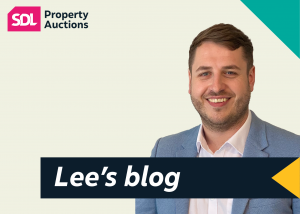 It's been a funny old year or so by anyone's standards, with the pandemic affecting (more or less) every part of our day to day lives, from the new normal of wearing masks and using hand sanitiser, to the increase in people turning to auction as a trusted way of buying and selling property.
Achieving a quick sale at the best price when selling a property has naturally always been important, but the past year has shone a light on just how crucial this can be for sellers. With the stamp duty holiday deadlines looming yet again, in June and September, sellers are once again facing a daunting cliff-edge of whether their sales can complete in time. With auction sales, we are in many ways blessed with the certainty of a fixed completion time, which in many cases can be as little as 20 working days.
Many people have turned to auctions, not only to take advantage of a quick sale but also with the knowledge that they can achieve the best price. With the property market as busy as it is, with stock levels across the UK at an all-time low, there really is no better time for sellers to assess how much their property could be worth and have a chat with our experts to discover how auction could support their sale, regardless of property type or location.
Take 15 Ilkeston Road in Sandiacre, Nottinghamshire from our April National Property Auction for example. This was a property in need of full renovation, something that investors or even creative first-time buyers find incredibly attractive, as it allows them to put their own stamp on a property. Packed with potential and benefitting from backing onto the Erewash Canal, this sold for an impressive £121,500 from a guide price of £64,000+.
Auctions aren't just for rundown properties though, as evidenced by the sale of 60 Stradbroke Drive in Chigwell, Essex. This property was sold in a Timed Auction on our website in April and was on the market for the first time in more than 65 years in partnership with Bairstow Eves. Situated in one of Chigwell's most exclusive addresses, this property had a guide price of £1,650,000 and sold for £1,745,000, after achieving an amazing 35 bids.
Both sellers benefited from the fast, faff-free nature of auction sales despite the difference in the properties sold. They also didn't compromise on price! As education surrounding buying and selling through auction continues to grow and become increasingly accessible, I would not be surprised if we are at the cusp of a property revolution, with auction sales and purchases becoming more and more of the norm for consumers, despite their property's condition or location, and we're here to help.
There are auction options for everyone, including our monthly National Property Auctions, daily Timed Auctions and Buy It Now sales. If you're thinking of selling or finding out more about how auctions could be right for you, simply request a free sales valuation on our website or give our friendly team a call on 0800 046 5454.