17th June 2020
How live-broadcast auctions provide the all-important human touch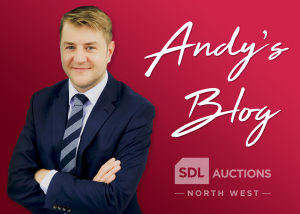 Andy Thompson, head of auctions North West, explains why he's a firm believer in the role of live-broadcast auctions in providing that all-important personal touch during our socially distant times.
Technology has long been blamed for depriving society of human contact – but during lockdown it really has saved the day, making social interaction possible while maintaining physical distancing.
It has kept our auctions running, too. While many auctioneers paused their operations at the beginning of lockdown and are only now beginning to open up again, we decided very early on that we didn't want to sit around waiting for the crisis to pass. We knew many sellers would need to realise their assets quickly and wanted to be there for them when they needed us most.
Thankfully we already had the technology in place to make the switch to behind-closed-doors auctions as seamless as possible. And, although some of us may miss the buzz of a busy auction room, our live-broadcast auctions are as close to the 'real' thing as possible – and in some ways better.
Online auctions certainly have their place; indeed, we run online auctions every day of the year. They're ideal for those who don't have time on their side because, if the legal pack is ready, a property can be advertised on our website within just a few hours.
But for many buyers and sellers, it is the personal touch which makes all the difference – and this is where our live-broadcast auctions have the edge. If you've ever watched one of our usual auctions broadcast live over the internet from the AJ Bell Stadium in Manchester, you'll see very little difference watching our national property auctions broadcast live from our head office studio.
Our managing director and auctioneer Andrew Parker still wields his gavel at the rostrum – and this visible presence of an auctioneer gives comfort and confidence to both buyers and sellers. If buyers are confident, they will bid more for properties, which is good news for our sellers.
And, although there is no crowd there to bid in person, we still take bids by proxy, over the internet and by telephone.
Something I have noticed is that if phone and internet buyers watch on screen at the same time as bidding, they can see the auctioneer close up, instead of across a sea of heads. And when he speaks, he is not addressing a crowded room but speaking directly to them, which feels much more personal.
There's an additional level of personal contact when bidding by phone, too, as buyers speak directly to a member of our team. Our auctioneer knows they are there and will wait, so there's no danger of missing out – just as long as they keep bidding!
It's all very familiar for around a quarter of our buyers. Many investors live far away from our Manchester venue and don't want to waste valuable time travelling across the country just for one property, so remote bidding provides the perfect solution.
With every virtual auction we hold, our catalogue grows and we attract more and more viewers; our May auction was watched by 1,500 people. And our June auction has 160 lots and, already, hundreds of registered bidders – with almost two weeks to go.
In the North West region, being part of a national auction has raised our profile, drawing in more sellers and seeing us effectively double our lots and generate the highest amount of income for sellers in the region since we launched here three years ago. This is great news for our sellers; properties have been selling for an average of 16% above their guide prices and we have raised £31 million for sellers since lockdown began in March.
While the pandemic has been utterly devastating for far too many people, whether personally or economically, it has forced many businesses into new and innovative ways of operating.
Our remote auctions have been widely praised by both customers and industry colleagues but will they change the face of property auctions forever? It's too soon to tell. But I do believe we need to start thinking less about getting back to normal and start considering how to move forward with a new normal, deciding which practices to take with us when the crisis is over.
To find out more about selling a property in one of our live-broadcast auctions, or to request a no-obligation auction valuation, please call the team on 0161 774 7333 or click here.