21st December 2020
How auctions have been helping estate agents ride an unpredictable property rollercoaster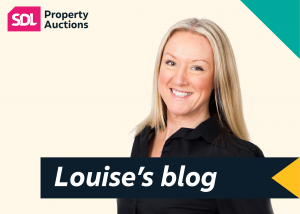 It's been a difficult year for everyone within the property industry and beyond – but it has also been a year of innovation. Here our commercial director Louise Moss looks back on a turbulent 2020 and ahead to the new year with a sense of optimism.
Many people will be glad to see the back of 2020, making new year celebrations – however subdued – take on a new significance in a few weeks' time.
But among the challenges of the pandemic, we should be proud of our great achievements of 2020. We became the UK's most successful live-streamed auctioneer and were hand selected to become one of just 15 industry suppliers for NAEA Propertymark. We've also celebrated with fresh new branding and an updated website.
It's been a year which will go down in history and we are mindful that most businesses have faced unimaginable difficulties. Back in March the first lockdown announcement pulled the rug from under everyone's feet. For us, it came just a few days before we were due to take our traditional room auctions to three different cities so, in common with many other businesses, we had to adapt quickly.
Our decision to hold our auctions behind closed doors in our head office paved the way for our now market-leading live-streamed National Property Auctions. It was never going to be 'business as usual' but we have kept both our monthly Auction Events and our daily Timed Auctions going throughout the pandemic and, in doing so, have helped thousands of buyers, sellers and estate agents.
We were particularly happy to be in a position to help our estate agent friends, as they have faced a rollercoaster year. In the spring their income dried up completely so we were pleased to help them maintain at least some income by turning potential withdrawals and fall-throughs into concrete auction sales – with payment reaching them just seven days after sales are agreed. We were also glad to assist some of our agent partners by providing desktop valuations and handling enquiries on their behalf while their branches were closed.
For several years we have had a solid working relationship with estate agents and corporate partners across the whole of the UK. Our network grew considerably in 2020 and we will continue to build on this in 2021 so they know we are on hand to help out where we can.
If 2020 has shown us anything it's that businesses which are willing to diversify will come out on top, and branching out into auction sales has proved a lifeline for our partners. And by enabling a growing number of estate agents to introduce more and more private homeowners to the speed and certainty of auction sales, we believe we are succeeding in taking auctions into the mainstream, just as it is in other parts of the world.
We've shown agents that we don't need to compete with them for business, but can work in partnership with them to create a brand new income stream with no risk or outlay. We can provide support and training to help them build an auction department to diversify their businesses in what could prove to be another challenging year.
Although the property market has been enjoying something of a mini boom since the first lockdown was eased – boosted by a combination of pent-up demand and the stamp duty holiday – we know this can't last forever because the economy has taken a battering as a result of the pandemic.
Right now demand is high, particularly for rural homes with countryside views, gardens and offices. But mortgage lenders are reportedly tightening their belts, so agents could find themselves facing a growing number of fall-throughs if banks refuse to support the generous offers made by enthusiastic buyers – with the inevitable knock-on effect on everyone in the property chain.
This, I believe, is another good reason for estate agents to encourage private homeowners to consider auctions. In an unconditional auction sale, bidders must arrange finance in advance – and in all types of auction there is a financial penalty for buyers who pull out after the sale has been agreed, making fall-throughs extremely rare.
Even though there are uncertain times ahead, I believe there is much cause for optimism as we head into 2021. The roll-out of the vaccine has brought hope to millions, and we can at last start to believe we will see our family and friends again at some point in the new year.
And whatever happens in the future, auctions will be there to help people buy and sell properly in a secure, transparent, speedy – and socially distant – manner.
For more information about partnering with SDL Property Auctions, agents can visit the SDL Property Auctions website or call the team on 0800 304 7879.