27th February 2019
High league table ranking underlines SDL Auctions' excellent start to the year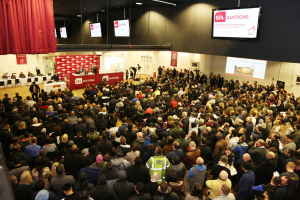 Underlining an excellent start to the year, SDL Auctions has been placed fifth in a national league table of the most successful property auctioneers in the country based on lots offered and sold in its room auctions and online auctions, according to data out this week.
Figures released by the Essential Information Group – which analyses national property auction data – also rank SDL Auctions in seventh place out of hundreds of auctioneers, based on the value of lots sold.
In 2018, SDL Auctions sold more than 1,700 lots at 39 auctions across the UK, raising total sales of over £215 million in the auction room and online.
The ranking is even more impressive when you look at the bigger picture, according to SDL Auctions managing director and auctioneer Andrew Parker.
He said: "It's amazing to rank so highly in the national league table and we're very proud of our team and grateful to our sellers for helping us achieve this success. However, when you look at the overall table, we have even more reason to be proud as many of those ranking above us for sales raised are operating in London and the South East, where property prices are considerably higher. This really confirms our position as a major player in the property auctions industry."
In addition, the data shows SDL Auctions Bigwood to be the most successful auctioneer in the West Midlands and SDL Auctions Graham Penny to be top in the East Midlands, positions which have been held for more than 10 consecutive years.
The figures come on the back of a successful start to the year, with auctions held around the country in February raising more than £17 million. There was also excellent news for SDL Auctions lead auctioneer Rory Daly, as he made a welcome return to the rostrum after being successfully treated for bowel cancer.
And the auctions team were delighted to welcome two different TV crews into the auction room, as the BBC filmed the action in Derby and Birmingham for Homes Under the Hammer, and Channel 4 filmed in Leicester and Chester for a new series called The Great House Giveaway.
Andrew added: "We have started 2019 on an incredibly high note and have plans to continue to build on these successes over the coming months. We look forward to selling many more properties under the hammer and getting some great prices for our sellers."
The auctions team are now on the lookout for properties for the next round of auctions, which take place in Birmingham in March and in Nottingham, Derby, Leicester, Chester and Manchester in April. Properties can also be sold at any time via online auction. For more information, for a free auction appraisal, and for details of all upcoming 2019 auctions, click here.