10th April 2019
Here's how you could live in a 220ft New Forest skyscraper said to have been built on the orders of Sir Christopher Wren's ghost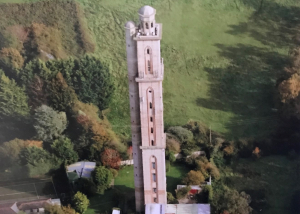 You could live in a fabulous 220ft forest skyscraper in the heart of the New Forest National Park which is said to be built on the orders of Sir Christopher Wren's ghost.
The unique 19th-century property – now converted into a unique gothic home – is to be sold via online auction by SDL Auctions in partnership with Totally Moving with a starting price of £1.6 million.
With views out over the Solent including the Isle of Wight, the 19th-century Peterson's Tower, Sway, Lymington, Hampshire was originally built by eccentric High Court judge Andrew Peterson after he said the long-dead architect Wren contacted him at a séance.
There was some foresight in his 'folly'; the project created jobs for local workers and the resulting 14-storey structure proved to be excellent publicity for Portland cement, which had still not been fully accepted as a building material at the time. Being formed of non-reinforced concrete construction originally, it allegedly became the tallest non-reinforced concrete structure in the world.
A well-known landmark in the local area, towering over the New Forest, the Grade II listed tower has a rooftop 'cupola' which rewards those with the stamina to tackle the 330-steps including up the spiral staircase with views of the Solent along with far reaching views out over the New Forest, Jurassic Coastline towards Poole and Eastward toward Southampton. Some of the upper floors are currently used to house telecoms equipment, generating an annual rental income of circa £29,500.
The living accommodation can be found on the five lowest storeys, where splendid Gothic-styled arched doorways, ornate cornices and exposed wooden flooring are attractive features which enhance the property's character, whilst providing a unique living area.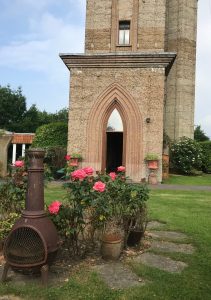 The ground floor features a dual aspect sitting room with feature fireplace, an impressive drawing room, dining room, kitchen area, and a fabulous triple-aspect garden room with full height glazing and a glazed dome roof.
Each of the four bedrooms is housed on a separate floor with its own en suite bathroom and storage space.
Back at ground level, there is an indoor swimming pool with changing facilities and the grounds extend to approximately three quarters of an acre, including a tennis court, lawns and paved areas, enclosed by walls to provide privacy. Within the grounds are a series of detached garages, office space, storage and a workshop – with the potential for conversion to detached holiday accommodation, subject to planning permission.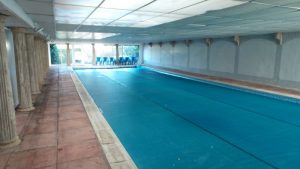 Sway Tower is being sold via conditional online auction by SDL Auctions in partnership with Totally Moving, with bidding opening on 1 May at £1.6 million. The auction ends at noon on Wednesday, 22 May.
Jason Lee, national sales manager at SDL Auctions, said: "When the ghost of Sir Christopher Wren tells you to build a tower, it seems you can't ignore him! Whether you believe Peterson had spiritual intervention or not, you can't deny that he has given us a fabulous structure which is steeped in fascinating history."
The design of Peterson's Folly was heavily influenced not just by Wren's ghost but by the follies Peterson had seen during his time in India, where he practised law and made his fortune. After retiring to Hampshire, he built his home on his estate at Drum Duan, which became known as Arnewood Towers – then proceeded to extend it from a small villa to a mansion with 40 rooms.
Keen to continue to provide work for locals, he said Sir Christopher Wren contacted him via his medium to promote the idea for the tower as a means of employment. He also believed he received messages from Jesus, William Shakespeare, Julius Caesar and Buddha, among other illustrious figures but, as far as we know, no further projects came about as a result of those visitations.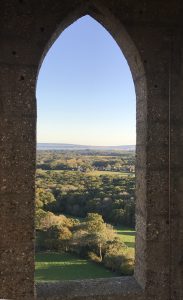 Peterson originally planned the tower as a mausoleum and wanted to install electric lights – the latest in technology of the day – but this was vetoed by Trinity House, which safeguards shipping and seafarers, being considered as a danger to shipping due to the fact the tower was clearly visible from the Solent and used by seafarers as a marker. For the same reason, Trinity House also thwarted his plans to install illuminated clock faces.
Peterson died in 1906 and his ashes were placed in the tower, according to his wishes, but were exhumed in the 1950s and reburied with his wife in the local churchyard.
During the Second World War, the tower was used by the Home Guard as a lookout for enemy aircraft and was converted to living accommodation in the 1990s by the current owner who spent a significant amount of time and money doing so. Prior to this the owner, alongside English Heritage, Hants County Council and New Forest Council, funded repairs and structural upgrades with specialist Structural Engineers supervising the works.
Jason added: "The combination of amazing Gothic features, lovely location and spectacular views means Sway Tower would make a beautiful private home – and what an amazing place it would be to raise a family. This is also a property which provides a vast amount of scope for different uses, such as a unique hotel or bed and breakfast accommodation, or a holiday let. There's also the possibility of renovating the upper storeys to create further living accommodation, as well as converting some of the other buildings on the property, subject to the necessary planning permissions."
The property is close to the New Forest Village of Sway, which has a mainline train station with commuter links into London Waterloo Station. Just four miles from the Georgian town of Lymington and the coast, the village is popular with walkers, horse riders, cyclists and sailors alike.
As well as the village school, there are several independent schools within reasonable travelling distance, and nearby Brockenhurst has restaurants and boutique bars, along with an 18-hole golf course.
Viewings can be arranged from 17 April via Totally Moving. Bidding opens at £1.6m on 1 May and ends at noon on Wednesday, 22 May. For more details, call 0800 246 1002 or email enquiry@totallymoving.co.uk.