22nd September 2020
Here's how we could sell your property in just one day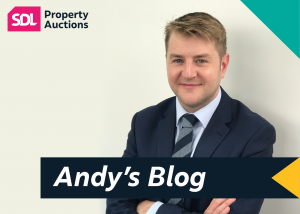 An auction sale is unrivalled for speed and flexibility. Here Head of Auctions North West Andy Thompson explains just how quickly SDL Auctions can get results for sellers.
We're in the middle of September, with just over a week to go before our next national property auction.
Right now, our teams are busy carrying out valuations and taking entries from sellers looking for the speed and certainty of an auction sale. We can have your property inspected, valued, photographed and added to our website within 24 hours of your first contact with us.
For our national property auctions, your property will be marketed to our wide network of buyers and on property portals for up to six weeks. This marketing period culminates in bidding in our live-streamed auction and, in the vast majority of cases, the property sale will be completed by the end of October.
Compared to a private treaty sale, this is breakneck speed – but what if it still isn't quick enough?
You may be working to a tight timetable and, thanks to the flexibility of our auction services, we are able to help. Our timed online auctions allow bids to be taken from the moment your property appears on the website. They usually run over the course of three weeks but you can choose to end sooner if your reserve is met.
This allows incredible results to be achieved in a very short space of time and 19 The Vale in Sparkhill, Birmingham, is a prime example. We sold this large overgrown building plot in a timed online auction in partnership with Smart Homes and over just four days the lot received 154 bids, selling £355,500 from a *guide price of £260,000. This was a fantastic result for the seller, who had been ready to accept a much lower offer prior to the auction starting.
Another great example is 16 Crescent Avenue in Crumpsall, which we sold in partnership with Aubrey Lee & Company. This property came to us the day after our August national property auction but the seller didn't want to wait for our 30th September auction so we offered it online.
The auction went live at 3.30pm – and by 7pm the same day, the reserve had been met and the property sold. The property attracted 23 bids from four different bidders, selling for £185,000 from a guide price of £171,000.
We were delighted to get such great results so quickly for these and many other sellers, and it highlights just how nimble our services are. We arm you with choices; depending on how quickly you need to sell, you can choose between our live-streamed national property auctions, or take the timed online auction route.
Conditional or unconditional auction?
Traditionally most sales in our national property auctions or our timed online auctions are unconditional, which means contracts are exchanged at the fall of the hammer with completion usually taking place 20 business days later.
For those who are a little more flexible on time, there is the option of a conditional auction sale. The buyer pays a reservation fee, which gives them an exclusivity period of 20 business days, giving them time to carry out surveys and source finance if required. They then have a further 20 business days to complete the purchase.
By offering all these different auction types, we help a diverse range of sellers, all with different needs and timescales. Each method has its own merits but if you are in a hurry you will most likely want to choose the unconditional route as this offers both speed and the certainty that once the auction has ended, the property is sold.
Transparency and certainty
From both the buyer's and the seller's perspective, all methods are considerably quicker than the open market and offer an unrivalled degree of transparency.
A legal pack for each property is available to view online. This lays out all the important legal information about the property, including the title deeds, Land Registry and local searches, details of any leases or planning permissions, plus any special conditions including the amount of deposit payable and the completion date.
This is provided to give potential buyers all the important information they need, in recognition of the serious nature of buying in an auction; it's important to remember that, in an unconditional auction, the winning bidder is contractually bound to complete the purchase. For this reason, before a potential buyer can bid, we take their details, including confirmation of their ID and payment information, although no money is taken unless they place the winning bid.
The moment the auction ends, a deposit or reservation fee is payable, which commands a high level of commitment from the buyer and gives parties peace of mind.
Whatever timetable you're working to, we have an auction method to suit you. Why not talk to us about your options? For a free, no-obligation auction valuation of your property, please click here or call the team on 0800 046 5454.