25th November 2019
Head to Nottingham auction to invest in one of the country's buy-to-let hotspots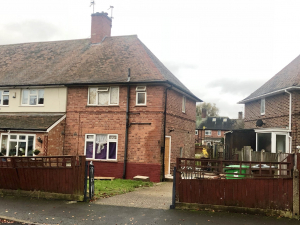 Latest research has shown Nottingham to be one of the top spots for buy-to-let investment in 2020 – and the experts at SDL Auctions Graham Penny say there has never been a better time to invest in the city.
Nottingham came seventh in a league table of UK cities expected to perform well for landlords in the coming year. It was compiled by property development and investment company SevenCapital, which analysed Zoopla and Land Registry data and combined this with demographic information and predictions from local agents.
Other areas in the UK which performed well in SevenCapital's league table were Birmingham, which took the top spot, followed by Manchester and Liverpool in second and third respectively. But Nottingham wasn't the only city in the East Midlands to perform well; Leicester crept just ahead to bag sixth place.
Reporting on SevenCapital's league table, Propertyreporter.co.uk cited Nottingham's central location and excellent amenities as a huge plus point. Property price growth of nearly 20% since 2014, with this expected to continue, makes it popular with investors and private buyers alike.
Laura Wiles, valuer at SDL Auctions Graham Penny, said: "Nottingham is a great city for many reasons. Its central location makes travelling in and out incredibly easy, and East Midlands International Airport is nearby. It has two excellent universities and a large teaching hospital, which are all excellent sources of tenants, and is popular with young professionals, who generally prefer to rent.
"And because property is still relatively affordable in this thriving city, landlords can expect healthy returns from their investments."
Regeneration projects such as the £250 million Southern Gateway development will add to the city's desirability, so the experts at SDL Auctions Graham Penny are urging investors to take a look at Nottingham sooner rather than later.
And there is still time to buy a property in the city before the end of the year, with two more auctions taking place at Nottingham Racecourse in 2019.
City properties coming up for auction on Thursday 21 November include 67 Ball Street in St Anns, a two bedroomed terrace with a *guide price of £50,000+. Within walking distance of the city centre, the house is already let at £468 per calendar month, so the new owner can start earning an income immediately.
Another is 75 Allendale Avenue in Aspley, a vacant three bedroomed end-terrace with off-road parking and a large rear garden. It has a potential annual rental income of £7,200 and a guide price of £78,000+.
As well as gearing up for the November auction, the SDL Auctions Graham Penny team are on the lookout for properties to sell in the final auction of the year, to be held at Nottingham Racecourse on Thursday 19 December.
There's no fee to enter a property into the December auction so Laura says sellers have nothing to lose: "It's free, it's fast, it's hassle-free and it's a genuine opportunity to secure a sale before the end of the year. It's a win-win, so why not give it a try?"
For more information about buying or selling at auction, or to request a free auction appraisal of your property, click here or call 0115 958 8702.