26th June 2020
Handling remote bids on auction day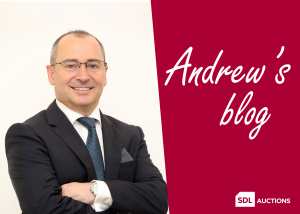 We've been offering telephone, internet and proxy bidding on our auction room lots for many years and during the current pandemic these remote methods have proved a vital replacement for in-person bidding, explains Andrew Parker, Managing Director and Auctioneer at SDL Auctions.
I often get asked how I handle the bids from the rostrum, so I've written this blog to explain how straightforward it is.
Remote bidding options
We offer three simple methods of bidding in our National Property Auctions:
Internet bidding: You register before the auction and receive a log-in identification for the lot(s) you are interested in. On auction day, you log in to follow the auction live. Bidding is simply a case of clicking a button.
Telephone bidding: A member of our team will call you on auction day and bid on your behalf, as instructed by you.
Proxy bidding: You authorise me as the auctioneer to bid on your behalf up to your specified maximum amount.
For each method you must submit your remote bidding form here, have your ID verified by our team and supply payment details 24 hours before the auction.
Preparation for the auction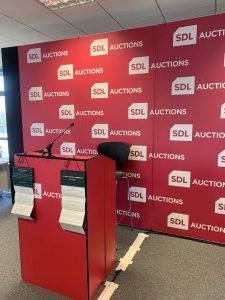 As the auctioneer, ahead of the auction I will go through the catalogue for one last time so I am confident offering all the lots we have for sale. I'll confirm all the reserve prices and check which lots have internet, telephone and proxy bids. It's important for me to know this so I can ensure we have all phone bidders ready and all internet bidders logged in before I commence.
Next to me in the auction studio is a screen showing who is signed in for internet bidding. When an internet bidder hovers over the 'bid' button, it flashes up on my screen so I know a bid is imminent. If the bidding is fast and furious this helps me to ensure everyone gets their opportunity to bid.
Similarly, with telephone bidding, our phone operators are spaced out across the auction studio, adhering to social distancing rules. The team member will advise the telephone bidder of the amount reached so far and ask if they would like to place a bid. If so, the team member raises their hand to alert me.
In front of the rostrum, a team member sits and logs all of the bids we receive. This updates the display in the auction room and on the live video feed to show the amount reached and ensures the team handling telephone bids, internet bidders at home and I are all working in sync.
Taking a remote bid
When offering each lot, I provide a short description and highlight the guide price. This ensures everyone knows which lot we're on so they don't bid on the wrong one!
Generally I will ask for the opening bid to be on the guide price. If I have a proxy bid – also known as a commission bid – on that lot, I will start the bidding there. I will then take bids from the internet and telephone against the proxy bid, continuing to rise in regular increments until the proxy bidder's maximum is reached, or until the other bidders no longer wish to bid.
It's worth noting that if you change your maximum price after you've submitted a proxy bid, we are able to amend that for you – but only if you email us with the updated figure prior to the auction starting. You can also be assured that I will only bid up to your maximum amount if competitive bidding requires it; if there are no other bidders and the reserve has been met, then I will sell.
Things can move quite quickly with multiple bids coming in from multiple sources. This is why I try to take my time accepting bids, speaking clearly so everyone knows who the current bidder is and at what price. In our last auction in May we received more than 1,200 registered bids so it can get a little hectic, even without a room full of hundreds of people.
Registering for a remote bid
We have capacity to offer remote bidding to an unlimited number of customers. We want everyone to have an opportunity to bid on our lots.
However, with telephone bids, we can only safely accommodate a limited number of people in our auction room so if we reach capacity for an individual lot – which we haven't done yet – we will ask you to carry out an internet or proxy bid instead. Telephone bidding is allocated on a first come first served basis so we always advise you to register well ahead of the auction day.
We have a simple remote internet, telephone and proxy bidding form on our website – HERE – where you can fill in your contact details and your chosen method for bidding. We will then contact you to confirm your ID and take your payment details, which will only be used should you be a successful purchaser.
The process is really straightforward and it's something we've been doing successfully for many years. If you're hoping to bid in our Tuesday 30th June auction then send us your remote internet, telephone and proxy bidding form prior to the auction day, or if you'd simply like to watch the auction action unfold then you can watch our live-streamed video HERE.