19th February 2018
Gurpreet Bassi named Young Business Professional of the Year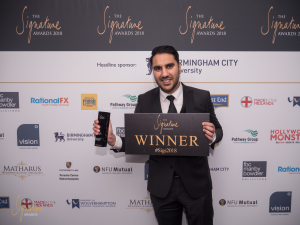 Gurpreet Bassi, head of residential auctions at SDL Auctions Bigwood in Birmingham, has been named Young Business Professional of the Year in The Signature Awards.
He accepted his award at a gala black tie event at the International Convention Centre on Friday 16 February.
Gurpreet joined SDL Auctions Bigwood in 2007 when it was known as CPBigwood and progressed through the ranks to partner in May 2015.
When CPBigwood was acquired by SDL Group in December 2015, he was promoted to head of SDL Auctions Midlands, which now incorporates SDL Auctions Graham Penny in the East Midlands.
He has a high profile within the auction industry, making regular appearances on BBC1's Homes Under the Hammer auction programme.
In 2017 Gurpreet was responsible for achieving the company's highest residential sale to date at £2.6 million, which contributed to SDL Auctions most successful year, selling over 1,450 lots and raising more than £165 million for its clients.
Gurpreet said: "I was surprised when I was nominated and even more delighted to be named Young Business Professional of the Year on the night!"
Paying tribute to the team at SDL Auctions Bigwood, Gurpreet, aged 31, said: "I am fortunate to be part of a great team. We work hard to ensure that every client feels like our most important client and our strongest asset is the people in our team. I am very proud to have won this award on their behalf."
The Signature Awards celebrate the best in the professions, shining the spotlight on executives in the wealth-creation sector who are helping to drive the regional business agenda forward.