3rd March 2014
Graham Penny Auctions launches real-time online bidding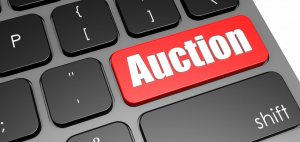 5th March 2014 – Graham Penny Auctions has today announced it is introducing live online bidding for all its auctions, making it the first property auction house in the East Midlands to offer the service.
After a successful pilot programme at its Derby auction on Friday 14th February, Graham Penny Auctions is now rolling out online bidding at all its Derby, Nottingham and Leicester auctions for the rest of the year.
The live online bidding service will allow prospective buyers to register for free online, view property details and legal packs and bid in real-time as if they were in the auction room. Interested parties will also be able to watch the auction live online without registering to bid.
Graham Penny, auctioneer and director at Graham Penny Auctions, commented: "We are managing increasing numbers of telephone and proxy bids at our auctions, many of which are from buyers who live outside of the Midlands. This new online bidding service is perfect for those bidders as it allows them to watch the auction via a live webcam and bid at the click of a button."
In addition to the new online bidding service, Graham Penny Auctions will continue to offer telephone and proxy bidding with prospective purchasers simply needing to register no later than 24 hours prior to the auction.
Graham added: "Our new online bidding service has already gained us an international audience. After our February auction when we piloted it we received an email from a client in Australia who was thrilled to be able to watch our auction online!"
Graham Penny Auctions is the number one auction house in the Midlands and holds 21 auctions per year at the iPro Stadium in Derby, Nottingham Racecourse and the King Power Stadium in Leicester and has city centre offices on The Strand in Derby, Wheeler Gate in Nottingham and Granby Street in Leicester. Last year it secured more than £62.4m in sales for its customers and achieved an overall success rate of 84 per cent – 6.2 per cent above the national average.
To find out more information about online bidding CLICK HERE