18th November 2014
Graham Penny Auctions launches agent partner programme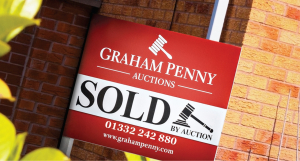 18th November 2014 – Graham Penny Auctions, the most successful auction house in the Midlands, has this month launched a new agent partner programme to offer an additional sales service for estate agents, letting agents and commercial agents across the region.
The programme has been launched in response to the growing number of vendors looking to sell their properties by auction and the increase in referral entries Graham Penny Auctions has received from agents looking to achieve the best sale price for their clients.
Andrew Parker, director at Graham Penny Auctions, explains: "We found that a number of our agent contacts were losing business because they don't offer sales by auction. Vendors were asking if an auction sale would be more profitable than a private treaty sale, which in some cases it absolutely is, and some agents had problem properties that they couldn't sell but would be perfect for investors in the auction room.
"Our new agent programme will allow our partner agents to extend their property sales services and generate additional income. Plus, we always carry out at least four weeks of intensive marketing for all our properties and so there is minimal additional effort required from our agents."
Auction is a great way of assuring the best price is achieved in the current market at any time – it is live evidence of the open market. It is no longer a place to get rid of property at a discount price, the auction room is now a place where vendors get the best price as well as a secure and quick sale. Selling at auction also widens the potential market, not only will there be buyers who want to make it their home, there will also be investors, developers and property dealers interested in buying.
Unlike some of its competitors, Graham Penny Auctions asks for only a £295 entry fee from its vendor clients and a £750 buyers fee from its purchasers along with their 10 per cent deposit on the fall of the gavel. So far in 2014 Graham Penny Auctions has raised over £57.1m in sales for its clients across the Midlands and achieved a 79 per cent success rate.
To find out more information about the Graham Penny Auctions agent partner programme click here