16th April 2020
'Flamboyant' listed office building to go under the hammer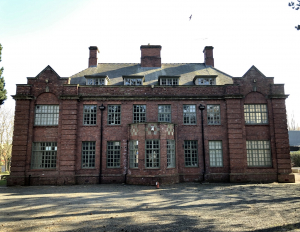 A striking Grade II Listed office building which is part of north Wales' rich textiles history is to be sold by auction later this month.
Dating back to 1909 and built in the Renaissance Revival style, Enterprise House, Aber Park in Flint, Clywd is currently used as serviced offices. It has a *guide price of £140,000+.
The two-storey building is built in distinctive local red brick with many attractive architectural features including moulded stone eaves cornice, arched recesses and a particularly impressive bay window at the rear. It is listed for its flamboyant design and detail which reflect the prestige and importance of the factory in this period.
Inside, the entrance hall leads onto the main stairs to the first floor with a second staircase leading to the attic. The building currently features 21 serviced offices, many suitable for subdivision.
Andy Thompson, head of auctions North West said: "Enterprise House is a truly remarkable building, with highly decorative architecture. The sizes of the offices make them ideal for small businesses but the building offers flexibility making it suitable for larger companies, too. It's also in a fantastic spot so would make a great commercial investment."
It occupies a prime business location in the popular Aber Park, which is now a modern industrial, retail and leisure site, close to transport links including Flint railway station and the A548. Flintshire Retail Park is close by and is home to many well-known shops and food outlets.
The area was developed in the 1890s for the production of vegetable parchment paper. At the beginning of the 20th century it was used by a German company for the production of natural fibres and, later, the synthetic fibre viscose rayon. Production ceased at the outbreak of the First World War and in 1917 the works were taken over by Courtaulds, who expanded and developed textile production across north-east Wales.
Enterprise House is due to be sold in SDL Auctions North West's first national property auction, which will take place behind closed doors on Thursday 30th April and replace its usual room auction at the AJ Bell Stadium in Manchester.
Bidders can watch the auction via the website here and bid remotely by proxy, by telephone or over the internet.
Social distancing will be maintained at all times as the auction will be conducted by managing director and auctioneer Andrew Parker, with only his wife, Rachael, in the room with him. Rachael, who is the regional property manager for the East Midlands, will manage internet bidding, while a remote team will take telephone bids and convey them to the auction room.
Andy added: "We're excited to be able to continue to offer our services to buyers and sellers during these challenging times. We feel it is more important than ever to be there for our customers, many of whom will not be in a position to wait until the current crisis has passed."
The remote auction method has already been proved to work; in March, SDL Auctions held three auctions in this way. They were watched by 1,850 people and raised £7.1 million for sellers, with properties selling for an average of 15% above their guide prices.
Properties from around the country will be sold in the auction on Thursday 30th April. To speak to one of the SDL Auctions North West team, or to request a non-contact valuation, please click here or call 0161 744 7333.