15th December 2017
It's a fair cop as £16 million-plus raised at Birmingham auction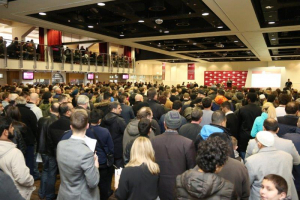 The hammer came down at more than £700,000 for a former police station in the latest SDL Auctions Bigwood auction in Birmingham.
There was more than £16 million raised at the auction at Villa Park on 14 December, which also included eight former NatWest Bank branches.
And SDL Auctions Bigwood, part of one of the UK's largest auction networks, has now announced it will be holding seven auctions in Birmingham in 2018 as part of a UK-wide 40-date auction calendar – the highest number the company has ever held in one year.
The former police station was a 5,594 sq ft building in Canterbury Road, Perry Barr, Birmingham, which sold for £730,000 from a *guide price in excess of £275,000.
Meanwhile, eight former NatWest Bank branches in Nottinghamshire, Derbyshire and Staffordshire – including three with Grade II-listed status – were sold for a total of more than £2 million.
The ex-bank branches included a 1,437 sq ft property at 24 Uttoxeter Road in Mickleover, Derby, where furious bidding resulted in it being sold for £305,000 – more than three times higher than its guide price of £100,000.
Another former bank was the Grade II-listed, 2,637 sq ft property at 9 Church Street, opposite Southwell Minster in the affluent town of Southwell, Nottinghamshire, which sold for £530,000 from a guide price of £450,000+.
The other Grade II-listed former banks were at 31 Market Square in Rugeley, Staffordshire, a 4,126 sq ft property which sold for £320,000 from a guide price of £240,000+, and 1 Church Street in Ashbourne, Derbyshire, a 3,848 sq ft property which sold for £310,000 from a guide price of £280,000+.
Ian Tudor, head of commercial auctions at SDL Auctions Bigwood, said: "These unusual lots created strong competition which resulted in some outstanding sale prices, and the day was a great success."
The increase to 40 auction dates in 2018 – up from 37 in 2017 – follows a year when the SDL Auctions network expanded into the North West, as well as increasing activity in its established areas of Derby, Leicester, Nottingham and Cheshire and North Wales.
The SDL Auctions Bigwood Birmingham auctions will be held at Villa Park on 15 February, 28 March, 9 May, 5 July, 6 September, 18 October and 12 December.
Mr Tudor added: "Vendors and purchasers do not need to go to London for regular big property auctions, as we're providing several every month across the UK.
"Our growing number of auctions shows that despite the wider static economy, vendors are increasingly choosing auctions because it's a fast and efficient way of achieving high prices and a secure sale."
The full SDL Auctions 2018 auction calendar is available on the website here.