12th August 2020
Estate agent's new auctions brand is powered by award-winning auctioneer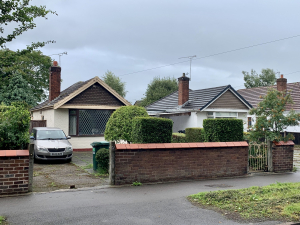 SDL Auctions has helped a leading Chester estate agency launch its own dedicated auction brand and seen it already raise £1.5 million for sellers this year.
Building on a strong reputation for quality and service, Humphreys of Chester has launched Humphreys Auctions which will be led by an experienced team and powered by SDL Auctions, the UK's most successful live-streamed property auctioneer*.
The launch of Humphreys Auctions comes in its 25th anniversary year and after many years of selling properties in partnership with SDL Auctions. Since the start of 2020, Humphreys and SDL Auctions have together achieved a 100% success rate for Humphreys of Chester, raising around £1.5 million for sellers through auction sales.
Among the properties recently sold via auction are 11 Chester Road in Huntington, a two bedroomed detached bungalow which sold for £189,000 from a *guide price of £135,000+, and a retail outlet – 1b Hoole Road in Hoole – which sold for £235,000 from a guide price of £200,000-£250,000.
The new Humphreys Auctions brand will build on this success and combine the strengths of two award-winning companies, with Humphreys' established reputation being underpinned by the national infrastructure, technology and reputation of SDL Auctions.
SDL Auctions is one of the UK's largest and most successful property auctioneers, selling a wide range of properties via monthly National Property Auctions, live-streamed from its head office auction studio, alongside round-the-clock single-lot online auctions every day of the year.
Andy Thompson, Head of Auctions North West at SDL Auctions, said: "We've had a great working relationship with Humphreys for a number of years and it's been fantastic to see them produce some extremely impressive sales results for their clients." 
Sam Johnson, Head of Auctions at Humphreys, is excited to steer the company in a new direction: "The launch of Humphreys Auctions is a major milestone so it's particularly fitting that it comes in our silver anniversary year. We have seen outstanding results from our partnership with SDL Auctions and the launch of our own auctions brand will take this arm of our business to a new level, putting us in a strong position to realise our ambition of becoming the leading auctioneer in Cheshire and North Wales."
With the launch of Humphreys Auctions, customers will have complete flexibility when it comes to selling their properties, with the option of choosing the speed and certainty of an auction sale, which provides a fixed timeframe with almost no chance of falling through.
By choosing to sell by auction, clients will see their properties marketed to the widest possible audience by both Humphreys Auctions and by SDL Auctions – which has a national database of serious investors – reaching more potential buyers to drive the best possible price.
The service is fully flexible, with multiple auction sale routes available. With an unconditional auction sale, buyers are legally, financially and contractually bound to complete the purchase of the property, giving sellers certainty over their sale.
With the conditional route, the buyer pays a reservation fee to secure the property and is granted 40 business days to exchange contracts and complete their purchase. By giving the buyer a more flexible timescale, this can sometimes achieve a higher selling price.
Properties which are ideal for an auction sale include buy-to-let investments, commercial properties, probate cases, private treaty sales which have fallen through and many more.
Andy added: "We look forward to seeing Humphreys Auctions flourish to become a leading player in the region."
To find out more selling a property by auction, or about partnering with SDL Auctions to build an auction department, call 0161 774 7333 or visit www.sdlauctions.co.uk