15th April 2019
East Midlands auctions raise £8.8 million for property sellers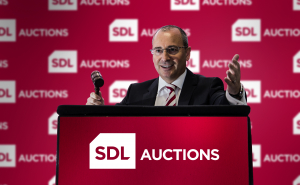 After a busy week of auctions, the most successful property auctioneer in the East Midlands* has raised more than £8.8 million under the hammer for properties ranging from garages to large apartment blocks – and everything in between.
The total raised at three auctions – held in Leicester, Nottingham and Derby – exceeded the amount raised at the February auctions and saw some enthusiastic bidding, with refurbishment properties attracting a great deal of attention.
This was certainly the case in Leicester, where 53 Brettell Road, Leicester, a spacious four bedroomed town house, sold for £124,000 from a **guide price of £100,00, 57 Blakesley Walk, a three bedroomed semi on a large plot, sold for £148,000 from a guide price of £120,000+ and 59 Burleigh Avenue, Wigston, a traditional semi, sold for £146,000 from a guide price of £125,000+.
It was a similar story in Nottingham, where 9 Tennyson Road, Woodthorpe, a traditional bay-fronted three bedroomed semi detached requiring improvements, sold for £185,000 from a guide price of £150,000+ and a terraced house in Mansfield, 32 Moor Street, sold for £54,000 from a guide price of £50,000+.
The BBC Homes Under the Hammer team were back in Derby to see a refurbishment property live up to expectations after receiving more viewings than any other lot in the auction. 107 Grasmere Crescent, Sinfin, a three bedroomed semi-detached house with a large garden, had a guide price of £45,000+ and sold for £124,000.
Some of the larger refurbishment properties were sold in Derby too where a two-storey former Baptist Church in Market Street, Clay Cross, sold for £107,000 from a guide price of £55,000+ and a former farmhouse in Breedon on the Hill ended the auction with a bang selling for £410,000 from a guide price of £225,000+.
But not all auction properties require modernisation; several have already had the work completed, such as 14 Austin Street, Nottingham, a two bedroomed ground floor maisonette which was renovated two years ago. Its guide price was £50,000+ and it sold for £55,000.
In Derby, a six bedroomed House in Multiple Occupation sold for £180,000 from a guide price of £165,000+. 52 Bedford Street, Derby produces an annual rental income of £27,000 when fully let and includes land to the rear suitable for development.
There were commercial and development opportunities to be had, too, including plots of land, retail units and, in Leicester, a block of 12 lock-up garages adjacent to 138 Cambridge Street which proved extremely popular, selling for £160,500 from a guide price of £45,000+.
Among the shops going under the hammer were 17 High Street, a three-storey former jewellery shop in Oakham, which sold in Leicester for its guide price, £165,000, 5 Station Road, Ilkeston, a ground floor retail unit leased to a national chain of betting shops, which sold in Derby for £72,000 from a guide price of £68,000+ and, also selling in Derby, 121 & 121A Branston Road, Burton on Trent, a former shop with potential to convert the upstairs to residential use, subject to planning permission, which sold for £99,000 from a guide price of £35,000+.
Land opportunities included a potential building plot to the rear of 711 Loughborough Road, Birstall, Leicester, which sold at the Leicester auction for £55,000 from a guide price of £50,000+, a building plot to the rear of 141 & 143 Baker Street, Alvaston, with outline planning permission for two bungalows, which sold in Derby for £80,500 from a guide price of £55,000+. A Ripley plot, rear of 230 & 232 Peasehill, with planning permission for a two bedroomed dwelling, also sold in Derby for £26,500 from a guide price of £23,000+.
It was another successful round of auctions for SDL Auctions Graham Penny, which has topped the league table of property auctioneers in the East Midlands for more than 10 consecutive years*.
Andrew Parker, managing director and auctioneer at SDL Auctions, said: "It's been great to be back on the rostrum, seeing the enthusiasm in the room and getting some great results for our sellers. Despite some of the stories in the media about the property market struggling in the face of Brexit uncertainty, we are bucking the trend and business is as brisk as ever.
"If you are selling a property, I would urge you to consider the auction route, as we can offer a quick and secure auction sale with no lengthy chains or risks of the sale falling through."
Entries are now being invited for SDL Auctions Graham Penny's next round of auctions, which are:
King Power Stadium, Leicester – Tuesday 21 May
Nottingham Racecourse – Wednesday 22 May
Pride Park Stadium, Derby – Friday 24 May
Lots will feature in a bumper three-auction catalogue, covering all three room auctions plus those being sold via online auction. To find out more about selling at auction, or to book a free auction appraisal of your property, please click here.