18th April 2018
We don't want to lose you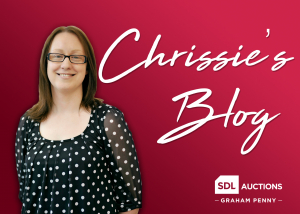 We've been asking you to re-subscribe to our printed catalogues and email alerts lists and many of you may well have been thinking why do I need to do this?
Here's the science bit… the data protection laws are changing which will mean all UK businesses have to change the way they use your personal data. And it's great news for consumers.
Although these changes don't come into force until 25th May 2018, SDL Auctions is already working hard to become fully compliant much sooner in order to ensure your data is used in the way you want us to use it.
What are these changes?
If you haven't yet heard about GDPR yet, you will certainly be hearing a lot about it in the coming months.
GDPR stands for General Data Protection Regulation and essentially it is designed to make sure your data isn't used when it shouldn't be.
Currently, as consumers our data is used by businesses on the undefined understanding that only tailored and relevant information will be shared with us. However, we know that's not always the case. Sometimes our data is shared with third parties without our knowledge and we receive emailers, postal mailers and phone calls from unwanted sources.
The new GDPR regulations will stop this from happening.
How does it work?
From May you will need to provide approval for businesses to use and share your data.
Let's take car insurance as an example…
You might go online to get a quote and enter your personal details – name, address etc. There may be a box already ticked which states that your information will be shared with third parties. Quite often this gets overlooked and we don't untick the box, giving the business authority to share our data with anyone.
With GDPR, when you go online to get a quote and you enter your personal details, you will need to tick the box to allow that company to share your details. The emphasis changes from you having to opt out to having to opt in.
What does it mean for me?
GDPR is a very good thing for everyone. It will mean our personal data is far more protected and we should only receive information relevant to us and that we have requested.
For those businesses you are already engaged with, you will need to tell them what you're happy to receive and not receive.
So, that online retailer you bought a birthday present from last year and now sends you unwanted daily emailers from will stop emailing you.
But also, your favourite restaurant that sends you a discount voucher every few months may also stop emailing you – unless you tell them you want to continue receiving information from them.
Continue to hear from SDL Auctions
We only want to send you appropriate and timely updates about our auctions, we don't want to bombard you with irrelevant information and waste your time. So tell us what you want to hear about.
If you only want to receive emails about our Manchester and Birmingham auctions, CLICK HERE and update your preferences in our email database.
And if you want to receive printed catalogues for our Nottingham, Derby and Chester auctions, CLICK HERE and update your preferences in our print database.
We don't want to lose you!
It only takes a minute and if you do not update your details before the May deadline your data will be deleted from our systems and you will no longer receive updates from us.