24th August 2021
Do you need extra insurance when working from home?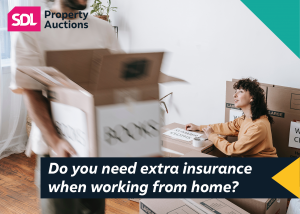 Still working from home? If you've ever worried what would happen if your office equipment broke down or was damaged, read our guide to work from home insurance and business contents insurance to see who's responsible.
Many office staff were forced to set up desks in their spare room or at the kitchen table during the COVID-19 pandemic – a situation which looks set to become the new normal for many throughout 2021 and beyond. Others have set up their own businesses during the pandemic, creating a home office on a more permanent basis.
Homeworking saw its biggest increase ever in the past year; The Office for National Statistics (ONS) says the figure rose from 27% of working adults doing some work from home in 2019 to 37% in 2020. 
Keeping expensive computer equipment at home may have you wondering if you need to inform your home insurance provider or if you need extra cover such as work from home insurance. If you work for someone else, any good company would take responsibility if equipment failed due to normal wear and tear but would they draw the line if a device was damaged in an accident? The old saying "never work with children or animals" could become all too true if prying toddler hands or a wagging terrier tail send your office iPad crashing to the ground and you're left footing the bill.
Do you need to tell your home insurance company you are working from home due to COVID-19?
If you were asked to work from home temporarily as a result of the pandemic and if that work is clerical, in most circumstances you don't have to inform your home insurance company as your cover will not be affected.
There are of course exceptions to this rule and The Association of British Insurers (ABI) says you must tell your home insurance provider you are working from home if:
You have business visitors to your home
You store or sell items from your home; this is even more important if the items are hazardous or flammable
You provide services from home, for example child minding, dog grooming, hairdressing
You have altered your property to accommodate your home working
You own any business equipment.
Will working from home long-term affect your home insurance?
Many people are surprised to find themselves still working from home many months after the first lockdown. Some companies are offering flexible working with the option to visit the office occasionally, while others have closed their business premises so staff must work from home beyond the pandemic. Almost a quarter (24%) of businesses say they plan to continue to use increased homeworking in the future, according to the ONS, rising to almost a half (49%) in the information and communication industry.
Whatever your circumstances, if your employer has asked or allowed you to work from home long-term will you have to inform your home insurer?
The Association of British Insurers (ABI) says that even if you are an employee still working from home in 2021, you still don't need to inform your home insurance company unless any of the above conditions apply. 
Perhaps most likely to affect you, even if you are only carrying out clerical work with no visitors, no stock or specialist equipment, is the one about adapting your home. If you are working from home long term, you may wish to create a home office by converting a garage or outhouse, or you may decide to carry out renovations or alterations to make home working more comfortable. If this is the case you should definitely inform your insurer.
In addition, if you use your own business equipment, you must tell your insurer as you may need to extend your level of contents cover. Visitors coming to your home will likely mean you require public liability insurance. If you keep stock or sell goods from home you may need business contents insurance, while if you provide services you could require professional indemnity insurance; although your employer should provide this, you should seek advice from your insurance provider.
Even if you are confident you don't meet any of these criteria and don't need to inform your insurer, it doesn't hurt to give them a call to ask for clarification. Withholding information from an insurance company could invalidate any future claims.
Will your home insurance premium go up if you work from home long-term?
Insurance premiums are based on risk. If you are receiving visitors or storing goods – or if any of the exceptions mentioned above apply to you – this is seen as an increased risk, which could make your insurance premium rise. If you own expensive equipment you will need this to be insured, which could increase your premium, too.
However, these increased risks will be balanced against the fact that you are at home during the day, when properties are normally empty and at greater risk of burglary. When you are working at home all day, the risk of burglary reduces. Balancing this against any increased risks could mean your premium remains unchanged. If you don't have any increased risks such as storing goods or receiving visitors, your premium could even go down.
Therefore, even if you aren't required to inform your insurance provider that you are working from home, if you are doing so regularly, make sure you complete the details on the insurance application form about the times of day your home is occupied as this could work in your favour.
Who is responsible for insuring office equipment when working from home?
Generally speaking, if your company provides you with office equipment such as a desktop computer or laptop to use at home, but retains ownership of that equipment, it is their responsibility to insure it and you don't need to add it to your own home insurance or take out any specialist work from home insurance.
However, the ABI says it is always better to be safe than sorry so do check this with your employer to be 100% sure it is covered on their corporate insurance policy. 
What happens if you damage work equipment when working from home?
It is worth asking your employer what their insurance policy covers. If a laptop breaks down due to regular wear and tear, they are likely to replace it. However, if they suspect you have not taken due care with it – such as if it has been dropped or you have spilled a drink on it – they may require you to pay or at least contribute towards its repair. You may have been asked to sign an agreement when you took possession of the equipment, so read this carefully.
Office equipment owned by your employer is not usually covered by your own standard contents insurance, but do check your policy documents just in case.
Do you need to take out work from home insurance?
The ABI says if you are working from home for an employer long-term, specialist cover may not be necessary but you may need to extend your home insurance. This can work out cheaper than taking out work from home insurance. Your regular home insurance provider can advise you as to the types of cover available. These include:
What insurance do you need when running your own business from home?
If you are not working for an employer but are a sole trader or running your own business, you must inform your insurer as withholding this information could invalidate any future claims. If you start your business partway through your policy, don't wait until you renew; you must inform your insurer straight away or you may not be insured.
If your work involves using only standard office equipment such as a laptop or desktop computer, you may not need business contents insurance as these are usually covered in a home insurance policy. Always check your policy documents to be sure, especially if your devices are particularly valuable as limits will usually apply. If this is the case, you may simply be able to extend your home contents cover to include the valuable items.
Check, too, if accidental damage is included in your home contents insurance as this is not always included as standard.
If your business involves visitors coming to your home, you will require public liability insurance, for example in case they injure themselves while visiting your premises. If your business designs, manufactures or supplies products, you may need product liability insurance, too. 
Need more space now you're working from home? Why not use  our Property Finder to find a bigger property. Or to find out more about selling your own property, click here or call our friendly team on 0800 304 7879.