20th March 2020
Do you have the dough to convert Wirksworth's historic Ovens Building into a home?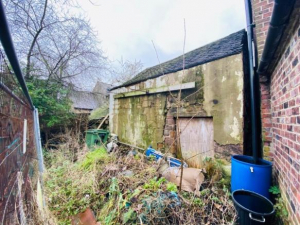 Wirksworth's historic Ovens Building is going under the hammer – and is ready for a new owner to rise to the occasion of converting it into a home.
SDL Auctions Graham Penny is due to sell The Ovens Building, 5 St Mary's Gate at its 100th Derby auction this month, with a *guide price of £45,000+, and auctioneers expect the Grade II Listed building to whet the appetites of visionary investors and developers.
Robert Stone, head of auctions East Midlands at SDL Auctions Graham Penny, said: "The refurbishment and development of this property is not for the faint-hearted but it has masses of potential. Although planning consent has not yet been granted, plans have been prepared to convert it into a contemporary two bedroomed dwelling and we would hope the local authority will look upon the application favourably."
Indicative plans have been drawn up to convert The Ovens Building to a contemporary two bedroomed dwelling with an open-plan kitchen/lounge/diner with windows overlooking the garden and St Mary's Church, with a guest cloakroom/WC. Upstairs, the plans – which may be available by separate negotiation with the seller's architects – feature two bedrooms with en suite shower rooms.
Although situated in the heart of the market town, the property is tucked away in a quiet spot in the grounds of 5 St Mary's Gate, a 'curtilage Grade II Listed building', which means any outbuildings are covered by the listing.
Now a hair and beauty salon, the main property was the Old Bakehouse shop for many years and, as the name suggests, The Ovens Building houses its ovens.
The brick and stone-built property is made up of three separate parts, all constructed at different times but with the oldest section dating back to the 17th century.
Robert added: "This is a property with a fascinating history, with original features providing an insight into its past. It was developed in 1900 from outbuildings behind 5 St Mary's Gate by the Killer family who had run a bakery here since 1890 and the ovens can be seen to this day."
The property requires a comprehensive programme of refurbishment and development but currently features a room with a part quarry-tiled floor, two large windows and the original 1900 ovens set within a tile-fronted wall. Built by W F Mason, the ovens have ornate cast iron fronts typical of the period and a similar example can be found in a house in Cleveland Terrace, Walcot, Bath.
An opening leads through to a second room, which has windows front and rear, and to the Oven Housing Room, most of which is taken up with the brick-built housing for the ovens.
A further room is on the first floor, which was originally accessed via an external timber staircase which has since been removed.
Outside the property is a delightful cottage garden which is fully enclosed by a stone wall and timber fencing, providing a high degree of privacy.
The property is currently accessed via the shared passageway used by number 5 St Marys Gate and the flat above but this will shortly be closed off and access to The Ovens Building will eventually be via the St Mary's Church side of the building, via the garden.
Robert said: "If planning permission can be obtained, this property has the potential to become a wonderful hidden gem in Wirksworth's town centre. I look forward to seeing how it is developed in the future, as I'm sure it will be an impressive transformation."
Following the closure of the bakery in 2012, planning permission was previously granted in 2013 for 5 St Mary's Gate to be converted to a residential property. This has now expired and relates to the property as a whole, so does not cover the conversion or redevelopment of the Ovens Building.
The Ovens Building, 5 St Mary's Gate will be sold by SDL Auctions Graham Penny on Thursday 26th March with a guide price of £45,000+. Instead of taking place at Pride Park Stadium as normal, the auction will be held behind closed doors and can be watched and heard via the live video feed here. Remote bidding can be done online, by proxy or by telephone; click here to submit your form.