9th February 2021
Discover your perfect match with our Property Finder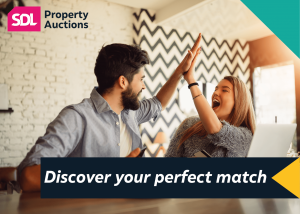 Finding the right property, either as an investment or as your new home, can be a struggle if you don't know where to start looking. Our Property Finder tool helps you quickly and simply search the properties on our website to the exact criteria you have in mind, from Buy It Now lots to freehold or leasehold properties.
Here's our three top tips for finding your next purchase:
1.
Location
Whether you're looking to purchase a buy-to-let investment or a new home to make your own, picking a location is key to making ends meet.
If you're looking to purchase a buy-to-let property and would prefer to attract a professional couple, then making sure you specify a search radius around a town or city will help to attract an audience in that category. Alternatively, if you're looking for your new home and have a family, or are planning to, then ensuring that radius includes a good school and transport links will help make things a little easier.
2. Know the type of property you're buying
There are two main types of residential properties that you can buy – freehold and leasehold – which both come with two very different definitions:
• A freehold property is when the owner of the property, owns the property and the land it sits on for an unlimited period of time.
• A leasehold property is when you own the property, but for a set period of time – this can be decades or centuries depending on the length of the lease.
More often than not, a flat is sold as a leasehold with the freeholder being the company/person that owns the building. So, if you're looking for somewhere that you can pass down through family as an investment, then you will want to use the legal filters to just pull through freehold properties.
3. Unsold lots
If a property hasn't sold because the right buyer for that property hasn't come along yet, it becomes an unsold lot and remains available to purchase – and that purchaser could be you!
More often than not, there's been interest in the property but bidding hasn't hit the reserve price (the minimum price the seller is happy to let the property go for). If you find a property under the unsold lots, don't hesitate, send us an enquiry and we'll see what we can do to help make it yours.
Start your search of our wide range of properties now using our online Property Finder here.