31st July 2019
Could sellers avoid dropping their prices by choosing auction?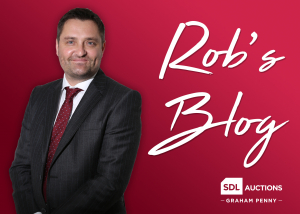 There always seems to be something in the media designed to cause alarm among property buyers, vendors or investors and right now, explains Robert Stone, head of auctions East Midlands at SDL Auctions Graham Penny. It's the news that house sellers are being forced to drop the prices of their homes in order to sell.
Last month NAEA Propertymark's housing report showed that over 80% of homes sold in May failed to make their asking price.
And the Independent has reported a widening gap between asking and selling prices following the publication of Zoopla's Cities House Price Index, with the selling price now an average of 3.9% below the asking price.
This piece particularly grabbed my attention as some of the areas most affected by a price growth slowdown were reported to be Nottingham, Leicester and Manchester; three areas where we hold regular auctions.
But dropping the price to get results is not something the vast majority of our sellers have to worry about, as our stats illustrate.
I took a look at the figures for 2019 so far for all three of our East Midlands auction venues as well as Manchester, to see how they stack up against that worrying average 3.9% drop from the asking price reported by Zoopla.
Derby fares best of all, where properties sell at auction for an average of 21% over the *guide price. Many went much higher than this, with 10 Balfour Road, Derby causing particular excitement at our May auction, where it sold for £80,000, more than three times its guide price of £25,000+.
But would the situation be so positive in Nottingham, Leicester and Manchester, which were highlighted in the Independent's piece?
I'm happy to report that auction sales in all three cities are getting excellent results, with properties selling for an average of 18% over the guide price in Manchester, 14% over guide in Nottingham and 11% over guide in Leicester.
In Manchester last month we sold 30 Lansdowne Road, Crumpsall, and end-terrace split into apartments, for £204,000, a healthy 20% over its guide price of £170,000.
A stand-out property at the Nottingham auction last month was the semi-detached 16 Glaisdale Drive East, Nottingham, which sold for £94,000, a remarkable 88% above its guide price of £50,000+.
And in Leicester in the same month, a semi-detached house in Wigston, 30 Northfield Avenue, sold for 15% above its guide price of £130,000+, realising £150,000 for the seller.
What is perhaps most reassuring for our sellers is that when selling by auction, a property will sell for its true value; which is, of course, the price a buyer is willing to pay, so they are never left wondering if they should have driven a harder bargain.
On top of this there is the speed of the transaction; once that hammer falls, contracts are exchanged and completion will usually take place within 28 days. Compare this to private treaty sales, where the average time between placing an offer and getting the keys is now an average of 162 days!
With auction there are no lengthy delays, there's virtually no chance of the sale falling through and there is transparency from start to finish.
Could auction be the best way to sell your property? The figures certainly point that way.
Wherever your property is located, we can help you sell it at auction and I will happily provide a free no obligation auction appraisal of your property. We are currently compiling catalogues for our upcoming auctions in the East Midlands and the rest of the UK. To find out more about selling at auction, please call us today on 01332 242 880.