23rd October 2020
Commercial property enquiries surge in wake of announcement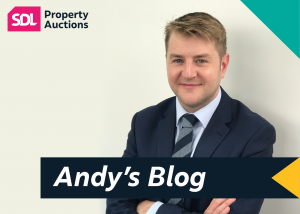 Since we announced our two-day auction with the second day being dedicated to commercial properties, Head of Auctions North West Andy Thompson has seen a surge in interest from sellers. Here he explains why he believes more commercial property sellers are shunning the open market for an auction sale.
We are getting a huge number of enquiries from potential sellers at the moment, many of them from commercial property owners in the North West.
One reason for this, I believe, is our recent announcement that this month's National Property Auction will be held over two days, allowing us to offer an exclusively commercial auction on Friday 30th October.
The announcement follows a series of hugely successful – and growing – National Property Auctions, where we've achieved some great results for commercial properties in the North West, most notably a mixed-use property in Leigh.
Selling for £1,270,000 from a *guide price of £1,150,000, 100 Lord Street in Leigh was the highest-value lot of the day and the highest-value lot we have ever sold in the North West since our launch 3 years ago. Featuring eight commercial units and 23 apartments, producing a rental income of £143,632 per year, it should prove to be an excellent buy for the new owner.
There were some fantastic results for commercial properties around the country, too.
Among them were Widney Evangelical Church in Solihull in the West Midlands, which sold for an impressive £588,000 from a guide price of £155,000+ and, 2A Outram Street in Sutton-In-Ashfield in Nottinghamshire, which sold for £110,500 from a guide price of £70,000+. Both of these lots have the potential for development subject to planning permission, making them excellent buys.
Of course, we at SDL Auctions have been selling commercial properties with great success for many years and pride ourselves on getting great results for our sellers. It's great that a growing number of sellers in the North West are appreciating the benefits of selling with SDL Auctions and I expect many more will be trusting us to sell their properties in the coming months, too.
One reason sellers are turning to SDL Auctions to sell their properties is, I believe, the fragility of the economy in the middle of the coronavirus crisis.
Over the past few weeks we have received a flurry of enquiries from commercial property owners and many of them have told me they are unwilling to chance selling their property on the open market as they fear it could take months to sell and the risk of it falling through is too great. The speed and certainty of an auction sale eliminates both of these very legitimate fears because we get great results in a short space of time and our fall-through rate is virtually zero.
Sadly, the pandemic has led to a great deal of hardship for many people and their businesses. In some cases, this means property owners selling up for financial reasons. We expect to see many such cases in the coming months and know how distressing this can be, so we handle every sale sensitively and do our utmost to get the best results out of a trying situation.
Providing a compassionate and valuable service is something we have been doing successfully for all sellers throughout the pandemic. Along with our agility in adapting to lockdown restrictions – both nationally and more recently in various locations including my own – this has helped us become the UK's most successful live-streamed property auctioneer.
Our two-day auction is just one more way we are reshaping our business in response to client demand. It will also be great news for our auctioneers Andrew Parker and Rory Daly – who between them spent a 12-hour day on the rostrum for our September auction!
We have some fascinating lots coming up in our commercial property auction this month,, including Pot Black Snooker Centre (Gravity Bar) in Denbigh, a former library, an old police office and a 14 bedroomed property with prime development land. . Yes, commercial lots can be just as varied and interesting as residential lots.
If you'd like us to sell a commercial property for you, why not get in touch? We will happily carry out a free, no-obligation valuation of your property. To find out more, please click here or call our friendly team on 0161 774 7333.