12th April 2018
A coffee with… Abigail Selwood, Operations Manager at SDL Auctions Graham Penny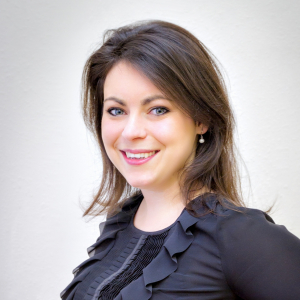 I started my career with SDL Auctions Graham Penny when it opened in April 2006 as an admin assistant. I thoroughly enjoyed my role, but was also thrilled to develop my skill set further as we opened an estate agency a few years later. As the business progressed, we opened an auction office in Nottingham where I was promoted to Office Manager followed by Operations Manager as a result of the acquisition by SDL Group in 2016.
I still love my job and think the auctions industry is perfectly suited to me; no two days are the same and it certainly keeps me on my toes!
What is your business motto?
I don't really carry a business motto but I've always got on well using the same principles that I do on a daily basis and that's to treat people fairly and how you would want to be treated yourself.
What is the best quality of SDL Auctions, and how is it different to other auction businesses?
Here at SDL Auctions we have extremely friendly and approachable staff that genuinely want to achieve the best results for our customers. I feel like the wealth of auction experience that our team has makes our business strong and our approachable manner is often praised.
What is office life like for you and your team?
It can be quite busy at times, particularly coming up to auction days, but the office always has a great atmosphere and a team that always pull together through thick or thin.
What is your approach to work / life balance?
I work with my boyfriend Rob, so office life has been known to take over our lives a bit sometimes. Saying that, I think it's important to try and plan regular holidays or breaks so there's always something exciting to look forward to outside of work. We also make sure we see our family as regularly as possible, there's often a birthday or a good excuse for a get together.
What is your approach to making contacts which are useful for the business?
I must admit I'm not the most confident when it comes to networking but I do enjoy going to industry-related events. Gradually getting to know people during a relaxed event lays great foundations for making useful contacts.
Who has inspired you most in your business life, and why?
My parents are a great inspiration to me; they brought me up teaching me the importance of hard work and commitment. I have also learnt a lot from Andrew Parker, our Managing Director & Auctioneer. He has a fair and considered approach to business as well as a good sense of humour – which always helps!
What is your proudest achievement in business?
Winning the Auctioneer of the Year competition a few years ago filled me with a massive sense of achievement. Entering was a huge step outside of my comfort zone so taking part and coming out on top was an incredibly proud moment for me.
What drives and motivates you?
I like to be busy, constantly learning and moving forward. I've previously carried out a technical award in Auctioneering via the National Association of Valuers and Auctioneers and also a National Association of Estate Agents diploma. I'm currently in my last year studying a RICS degree in Real Estate Management online, which has been a bit of a challenge so far, but very interesting and valuable.
If you hadn't been an Operations Manager, what would you do instead?
I'm not exactly sure because I love the area I work in – so it would definitely still be property related. Thinking about it, I wouldn't mind Kirsty Allsopp's job!!
What time of day are you at your best, and why?
Mid-morning is the best time of day to catch me, once I've had a couple of coffees and I have broken into my 'to-do' list for the day.
Do you use Facebook, Twitter or other social media?
I do use Facebook and Instagram but mostly just to be nosey. It's nice to stay connected with people but I rarely post anything.
If you could have a coffee with anyone, who would it be, and what would be your choice?
Any of my girl friends, we don't get chance to meet up enough anymore, everyone's so busy and live in different parts of the country. As for my drink of choice I would have an americano, but let's be honest, if it was after lunchtime I'd prefer a glass of wine.
How do you relax outside of work?
After a week in the office I find it's nice to get outdoors as much as I can, so at the weekend I love to get into the countryside and do a long walk, usually followed by a nice pub lunch.