2nd December 2014
Children's memories of bygone holidays sparked by auction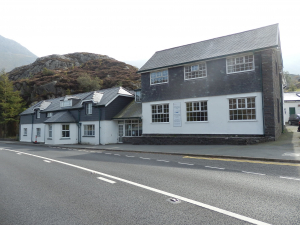 Two former outdoor children's centres in North Wales, both owned by Midlands councils, have changed hands, sparking some amazing memories of times past.
Generations of youngsters have enjoyed Ogwen Cottage at Nant Ffrancon and Towyn Camp, Golf Road, Pwllheli, both Gwynedd, run by Birmingham and Wolverhampton councils respectively.
Both properties went for well over the guide price at SDL Bigwood's latest auction held at the Holte Suite, Aston Villa.
Ogwen Cottage, a stone-built former coaching inn, with a guide of £375,000-£400,000, was acquired by Wales National Trust for £450,000, the sale prompting special recollections from Dorothy Holland, who lives in Sutton Coldfield and as a pupil at Manor Park in Aston was on one of the first parties of girls sent from Birmingham schools in January 1960.
"It was a wonderful experience," she recalls.
"We were there for ten days and climbed Snowdon in a blizzard on the middle Sunday. Needless to say the shack (sorry hotel!) at the top was not open at that time of the year!"
And the adventure sparked many trips back.
"A friend, Anne, was also selected from her school and later we used to go up for long weekends at Easter and other times, taking her twin sister Jane too, and camped in the cottage 'garden' amongst the boulders with a big stream not too far away by Ogwen Falls.
"Was woken one day by a sheep sticking its head through the tent flap and licking my face. Yuk, bad breath!
"We helped with the mountain rescues too, carrying the stretchers and kit bags down. Easter was always known as the idiots' annual outing! Girls in stilettos and some wearing flip/flops – then wondering how they have come to fall and break their ankles! Sometimes we would be called out four or five times a day. Still at least it kept us out of mischief and the hospital at Bangor busy!"
She recently went back albeit restricted by ill-health – she is 70. "I did what no self respecting mountaineer would do – went up Snowdon on the train!
"The present visitor centre is out of this world and there are even toilets up there – wow! But more importantly it is now wheelchair friendly so that disabled people can actually get to the top to see the wonderful view … unless the cloud base is down! I did a detour to call in at 'Oggy' on the way back and spoke to several of the instructors who were very interested to learn of our experiences all those years ago."
Ogwen Cottage comprises eight dormitories and associated facilities, catering for up to 40-plus people.
Situated just off the A5, it is located within the picturesque Snowdonia National Park and lies on the shores of Lake Ogwen.
Parts of the property, which extends to 2.2 acres, are thought to date from 1700.
Wales National Trust has owned 20,000 acres of surrounding land since 1951 and property surveyor Ilan Jones said Ogwen Cottage represented "the missing piece of the jigsaw".
He went on: "It was an ideal opportunity and we are very pleased to have acquired it."
Explaining that the public were often unaware of the Trust's interests in the area, he added: "Hopefully we will now be able to improve that engagement."
Mr Jones said they were still thinking through their plans for Ogwen Cottage but it would be utilised "along the same lines" as before.
Currently shut, he said the Trust "wanted to get it up and running as soon as possible".
Towyn Camp, a detached five bedroom former farm house, in close proximity to the beach, sold for £200,000 off a guide of £120,000.
The whole site extends to some 18 acres, 17 of which are let on an agricultural tenancy.
It is thought the new owner may wish to utilise the property as a holiday home.
Auction partner Ron Darlington said: "It is good news that these two properties are set to get a new lease of life.
"Both are in beautiful locations and amidst stunning scenery. Ogwen Cottage has gone to a good home – I am sure Wales National Trust will be able to use it to its best advantage. We were very pleased with the outcome."