24th September 2019
Cheapest in Chester? Check out this chic apartment with a guide price of £18,000+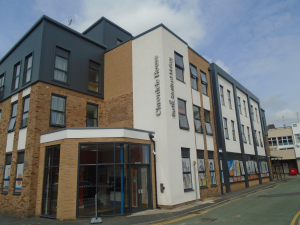 A swish studio apartment being auctioned by SDL Auctions North West is thought to be the cheapest flat in Chester.
Flat 5, Chronicle House, Commonhall Street, Chester, is in a block of luxury student apartments with a host of communal facilities but has also been let for shorter stays via booking.com. Despite its smart condition and modern décor, it has a *guide price of just £18,000+.
Andy Thompson, head of auctions North West, says this versatility and low guide price make it an excellent investment.
He said: "Whether you have a son or daughter planning to study in Chester, or are looking to earn some rental income by renting to students or holidaymakers, this studio apartment is a great buy. As well as the low guide price, your outgoings are reduced by the fact that it comes fully furnished with a smart TV.
"With no maintenance or decorating required, it's ready to move into right away. And with auction transactions being so fast and hassle-free, you can start earning on it within just a few weeks."
The bright and modern studio apartment features a bedroom, office/study area, a fully furnished modern kitchen area and toilet/shower area. In addition, residents of Chronicle House have the use of a communal lounge area with a pool table, gym facilities, a cinema room and secure bicycle storage.
Auctioneers believe the leasehold apartment could be let on an Assured Shorthold Tenancy for around £157.50 per week (£8,820 per annum), or on a short-term basis at £35 per night.
Andy added: "However you choose to let this apartment, it has the potential to give you a great return on your investment – and it's sure to be in great demand due to its fantastic central location."
Commonhall Street is within the old city walls of historic Chester, within walking distance of University of Chester campuses, as well as Grosvenor shopping centre, restaurants, clubs and theatres.
Andy said: "Chester is a beautiful city which is popular with residents, students and visitors alike. The city has heritage and culture, a vibrant nightlife, great shopping facilities and excellent transport links, too, being accessible from Liverpool, Manchester and the Welsh border."
Flat 5, Chronicle House is due to be sold by SDL Auctions North West at its fifth auction of the year at the AJ Bell Stadium, Manchester, on Thursday 10 October.
There's still time to enter your property into the auction. For more information, or to request a free auction appraisal of your property, click here or call 0116 774 7333 to speak to the auctions team.