23rd June 2020
Busting the myths: why don't more people sell by auction?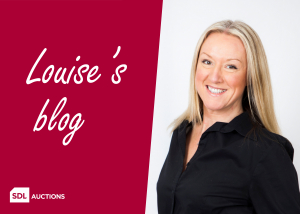 Louise Jefferies, Commercial Director at SDL Auctions
For years, people who want to sell their property have looked to their local high street or the sale boards in their neighbourhood to pick an estate agent to sell with. That's not the wrong choice, however many sellers don't know there is another way to sell while still using their estate agent of choice. Or if they don't have a preferred estate agent, that they can sell with a national auctioneer like SDL Auctions while still getting the right level of support from the local experts.
Selling property by auction is on the rise and it's been growing for many years, not just during lockdown. In May this year just under £200m was raised in property auctions, imagine what it would be without all the uncertainty of a pandemic to contend with.
When we speak to sellers and when our partners do, the same concerns come up time and again, and many of them can be easily answered. There are many myths about the auctions industry and something our team at SDL Auctions are working hard to positively respond to.
Here, Louise Jefferies, Commercial Director at SDL Auctions, addresses her top five property auction 'myths' to help highlight the choices that are available through a sale under the hammer.
1. Auctions are only for desperate sellers
They're not exclusive for those who are looking for a fast sale. Yes, if you need to sell and realise some cash quickly then auctions could be your best option. However, if you're not in a hurry but you want security of sale (we have a less than 1% fall through rate compared with an average of 40% in many parts of the country) and the comfort that competitive bidding has got you to the best price in today's market, then auctions can provide that.
2. Auctions are only for run down properties
Any type of property can sell by auction, they key to success is the price of the property and marketing it to the right audience. We've sold thousands of properties in the past 12 months alone, from high value, luxury properties through to modern family houses and investor doer-uppers.
Take a look at the properties we currently have for sale here.
3. It will cost me a lot to sell by auction
There doesn't have to be any big fees when it comes to selling by auction. In fact, it can be free to sell if that's what suits you. Again, it's all about choice. We offer several contract options to suit the circumstances of the sale; in some cases, the seller pays nothing, and the buyer pays the commission. That can sometimes be helpful when the reason for the sale is to raise funds. In other cases, the seller can pay the commission and the buyer pays no fees. There are many ways to open the market and our expert team can identify the right way to take properties to auction. What we do know is it's not just one way anymore and offering choice is at the heart of what we believe is right and helps bring auctions to a wider market. A principle we are proving every day.
4. I'll get a low sale price in an auction
The truth is you won't get any lower than you are comfortable with for your property. You set the reserve price and we won't sell it for any less than that amount. So far in lockdown our sale prices are an average of 16% above our guide prices, meaning you could even get more selling by auction, than you would have done on the private treaty market. It's much more about the security and speed needed for auction, the market will often dictate what a property is worth, not any of us property professionals! We always have a few surprises when it comes to auction day but ultimately nothing sells for a price that the seller has not agreed to.
5. You have to be a cash buyer
Yes, you can buy at auction using cash, but you can also fund your purchase with a bridging loan or indeed with a mortgage. Auctions are no long the playground of the cash-rich, there is choice for our buyers. Nearly half of our buyers use traditional funding like mortgages or bridging.
With our unconditional auctions you exchange contracts on the fall of the hammer, a deposit is paid immediately, and completion usually takes around 20 working days. In those circumstances you need to be able to access the full amount within the agreed timescales, but the method of payment is down to the buyer.
If you need a longer timeframe that's fine too. Our conditional auctions allow for a longer completion time meaning buyers have more flexibility in choosing their funding method.
For more information on the auction choices available to buyers and sellers, contact our friendly team today on 0800 304 7879.