3rd September 2013
Biggest Midlands Auction of the Year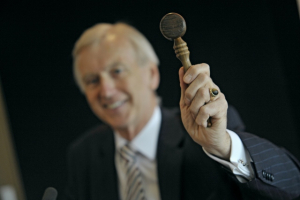 3rd September 2013 – Graham Penny Auctions, the Midlands number one property auctioneer*, is ready to hold its biggest auctions of the year so far with 150 lots going under the hammer over two days.
The auctions on Thursday 5th September at Pride Park Stadium in Derby and on Thursday 12th September at Nottingham Racecourse have the company's biggest catalogues so far this year with 83 and 67 lots respectively.
Both catalogues are packed with residential and commercial properties and land from across the Midlands and further afield including a number of investment homes, a former private members club, seaside retreats, a chip shop, a hotel and a former Little Chef.
Graham Penny, auctioneer and director at Graham Penny Auctions, commented: "The market appears to be strengthening and our catalogues this month demonstrate how regional auction houses have the expertise and knowledge to match the London-based auctioneers and provide a compelling reason to look outside the City for a profitable property sale.

"Our catalogues are not only strong in terms of the number of lots we have on offer but also in terms of the types of properties available. There's something for everyone and as the threat of rising prices continues, now really is the time to buy."
Last month, residential auction figures published in the Essential Information Group's monthly newsletter showed that 516 properties went under the hammer at auction in the East Midlands during May to July 2013 and 40 per cent of them were sold by Graham Penny Auctions. It also showed that during that period Graham Penny Auctions achieved a sale success rate of 7.7 per cent above the national average and 10.8 per cent above the East Midlands average.
Next month Graham Penny Auctions will hold its first Leicester auction at Leicester City's King Power Stadium and with £34m in sales already secured for its clients so far this year and eight auctions remaining on the calendar it looks set to comfortably beat last year's total sales of £52m.
With 21 auctions per year from 2014 at Pride Park Stadium in Derby, Nottingham Racecourse and the King Power Stadium in Leicester Graham Penny Auctions dominates the region's house and property auction market in terms of lots offered, lots sold and revenue raised and continues to stay well ahead of its rivals across the East Midlands.
To view the Derby September property catalogue CLICK HERE
To view the Nottingham September property catalogue CLICK HERE
To find out more about the first Leicester auction on Thursday 24th October at Leicester City's King Power Stadium call 0116 202 5048
*based on essential information group statistics. Based on lots offered, lots sold, revenue raised for 2012.