14th August 2020
Beyond the pandemic; how SDL Auctions will continue to help sellers around the UK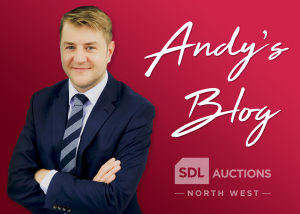 Andy Thompson, head of Auctions North West at SDL Auctions, reflects on how the company's recent growth will lay the foundations for further success in what could turn out to be a challenging period for the property market.
At SDL Auctions we have been proud to continue operating throughout the coronavirus pandemic, from the first lockdown in March through to the local lockdowns which are currently affecting my area of the North West.
Through our commitment to helping those who need to sell their properties regardless of world events, we have become the UK's most successful live-streamed auctioneer, selling more than 590 lots and raising more than £75 million for sellers since lockdown began. And I'm proud that so many of those properties were in the North West, where we've raised £10 million, doubling our lots and generating the highest amount of income for sellers in the region since we began.
We've gone from being a regional auctioneer focussing on specific areas of the country to a national auctioneer selling properties from the far north of Scotland down to the tip of Cornwall.
One reason for this success is that we already had the technology in place to allow us to maintain an unbroken schedule of auctions. This, coupled with our established reputation for transparency and a national network of buyers, has given an increasing number of sellers the confidence to trust us with their properties.
In a time of great uncertainty, we were able to provide the certainty people required. In an auction, contracts are exchanged automatically at the fall of the hammer, with completion taking place around four weeks later. It's ideal when time is not on your side.
We are able to help sellers in a wide range of circumstances, including:
Corporate clients
We work closely with receivers, insolvency practitioners, asset managers and major companies to sell all kinds of properties. By selling in one of our auctions they get the transparency they require, while achieving the best possible prices. We already have several such properties entered into our August auction, including a former bank and a 33-lot portfolio of houses.
Councils and housing associations
Similarly, councils and housing associations often need to sell off old stock, usually because it doesn't meet tightening standards. By disposing of their older properties, they can reinvest in more suitable purpose-built homes.
We've helped local authorities all over the country, not just with homes, and have a 100% success rate when selling for Norfolk County Council. In April, a parcel of land received 177 bids and sold for more than 20 times its guide price.
Frustrated sellers and estate agents
Open market property sales fall through all the time – and the longer it takes, the higher the risk. This became even more of an issue during lockdown, with many sellers left high and dry.
We came to the rescue of many sellers and estate agents, who turned their fall-throughs into successful completions via SDL Auctions. By switching to an auction sale, sellers can get the result they need quickly, while estate agents keep their income flowing, which was a particular lifeline during the strictest part of lockdown.
Disheartened landlords
Problem tenants, maintenance issues and financial considerations are just some of the reasons landlords may decide to cash in their assets.
Last month we were delighted to get a great result for the seller of 32 Lostock Avenue in Warrington. The property was in poor condition but rather than take on the challenge of renovating it, the owner decided to sell it 'warts and all'. Happily, our buyers are undeterred by a refurbishment project; we had 33 people registered to bid and it sold for £90,000 from a *guide price of £50,000.
Probate cases
Inheriting a property can present a number of issues. The beneficiaries may disagree on the property's value or simply want to dispose of the property as quickly as possible to release the capital.
In the case of 6 Chew Wood in Chisworth, Glossop, the owner was keen for speed because they were concerned the market would not remain stable for long enough if they sold on the open market, which can take several months. From an asking price of £95,000, the cottage sold for £126,000 and the sale will complete before the end of August.
These are all great success stories for both our sellers and for SDL Auctions. But this is no time for complacency and we know the property market is particularly sensitive to external events. As the economy struggles to recover, we are likely to face tough times ahead.
Whatever happens, we at SDL Auctions will be here to help. Whether you need to sell one property or a huge portfolio, we have the resources to market them to a vast network of experienced and serious buyers. We can get you the best possible price in just a few weeks, with virtually no risk of the sale falling through.
We have 200 lots entered into our August national property auction so why not speak to our team today to find out how we can help you get the best results for your property? To request a free, no-obligation auction valuation, please click here or call the team on 0161 774 7333.