1st April 2021
Auctioneer says castle buyer will be walking on air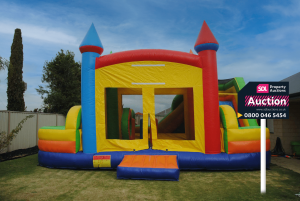 SDL Property Auctions' growth over the past year and market-leading reputation has led to a once-in-a lifetime sales opportunity to sell one of the nation's most distinctive and unusual properties.
In the ultimate property auction, the UK's leading live-streamed property auctioneer is offering a rare opportunity to own a whole castle, a property it says will have its new owner walking on air.
Unusually for a castle, Bounce Fortress, Giggleswick features a largely open-plan layout providing flexible but compact accommodation. It is approached via a grand entrance with double doors and features four distinctive landmark turrets. Stairs lead to the upper floor which takes advantage of the property's bright and airy feel while allowing the occupants to appreciate the far-reaching views over the surrounding countryside.
A particularly attractive character feature is the slide, which enables residents to access the ground floor quickly and smoothly and means the property would particularly appeal to families with young children.
However, managing director and auctioneer Andrew Parker said the property would equally prove popular with investors attracted by its impressive yield and added that there had already been queues of people hoping to look it up and down.
He said: "Interest in this property has really blown up over the last few days and the whole team is really pumped up about selling it.
"For years, the property market has been up in the air, puncturing many people's dreams of home ownership, not least since prices have begun to bounce back. But there is nothing inflated about the price of this unbelievable property and thanks to the speed and certainty of auctions, buyers are cushioned from the risk of a fall-through and won't be let down."
Andrew urged interested parties to get in touch and explained that all precautions are being taken to allow for safe viewings.
"Only people from the same household may view the property at each appointment and we request that they not only sanitise their hands and wear masks but, due to the unique nature of the property's flooring, remove their shoes before entering."
SDL Property Auctions is selling the castle in a Timed Auction on its website, ending at noon on Thursday 1st April. The price is available on application. To find out more, visit www.sdlauctions.co.uk or get on the blower and call the team on 0800 046 5454.