10th October 2012
Auctioneer Of The Year Award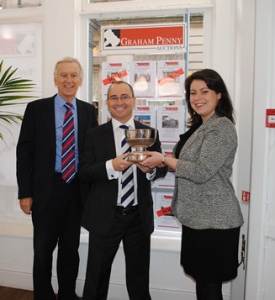 Graham Penny Auctions retains Auctioneer of the Year Award for the second consecutive year
For the second consecutive year, a member of the team at leading property auctioneers Graham Penny Auctions has been named Auctioneer of the Year by the National Association of Valuers and Auctioneers (NAVA).
Andrew Parker, director at Graham Penny Auctions, which has offices on The Strand in Derby and Wheeler Gate in Nottingham, succeeds Abigail Selwood, who won the title in 2011.
In order to win this coveted award, Andrew was required to demonstrate his auctioneering skills at a simulation auction, complete with a deliberately awkward audience, at The Stratford Manor Hotel in Stratford-upon-Avon.
Entrants were each given twelve minutes to sell four lots in front of an audience of experienced auctioneers, who set out to challenge them with a series of disruptions.
Afer being announced as the winner of the Auctioneer of the Year Award, Andrew was invited to conduct a charity auction – two lots were sold, which raised almost £200 for the National Federation of Property Professionals (NfoPP) Benevolent Fund.
Andrew is a well known face in the East Midlands property sector. He joined Graham Penny Auctions' Derby operation in 2011, before joining forces with Abigail to set up the company's Nottingham operation in January 2012.
Commenting on winning the award, Andrew said: "I am delighted to have been named NAVA Auctioneer of the Year. As well as a huge personal achievement, it ensures that the title stays within Graham Penny Auctions for at least another year."
Graham Penny added: "I would like to congratulate Andrew on winning this highly coveted award. To keep the title within Graham Penny Auctions for a second year is a tremendous achievement and reflects the skills and experience of our growing team.
"Both Andrew and Abigail are playing a key role in the development of our Nottingham operation, which has achieved sales of in excess of £10m from its three 2012 sales," added Graham.
Graham Penny Auctions acts for both private individuals and institutions selling a wide range of interests, from investment properties and vacant houses to building plots, commercial investment properties and others.
Graham Penny Estates is the residential estate agency arm of the Graham Penny Group and specialises in the sale of residential properties throughout the East Midlands.
The next auction is taking place at Nottingham Racecourse in Colwick on Tuesday 30 October/ Pride Park Stadium in Derby on Thursday 18 October (amend according to distribution area)