9th July 2013
Auction stations in Leicester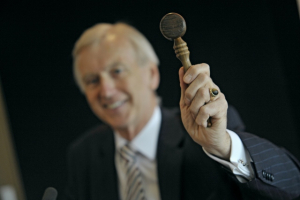 10 July 2013 – Graham Penny Auctions, the Midlands' number one property auctioneer*, has today announced its expansion into Leicester with seven auctions per year taking place at the King Power Stadium – the first of which is on Thursday 24th October.
The addition of the King Power Stadium to the existing calendar of auctions at Pride Park in Derby and Nottingham Racecourse will bring the total number of auctions in the East Midlands each year to 21.
Graham Penny, auctioneer and director at Graham Penny Auctions, commented: "So far this year we have achieved a 100% success rate on sales of properties in Leicester so it was a natural step in our expansion plan to hold an auction in Leicester and emulate the leading position we now hold in Derby and Nottingham.

"Entries are open for our Leicester auction and we'd encourage anyone thinking of selling to get in touch with us now. Auctions can be a great place to sell all kinds of properties including those in a state of disrepair, properties which have been inherited and need a quick sale or even properties that have been on the private treaty market for a while and are struggling to sell."
Graham Penny Auctions is the number one property auctioneer in the Midlands and regularly features on BBC One's Homes under the Hammer. It dominates the region's house and property auction market in terms of lots offered, lots sold and revenue raised and continues to stay well ahead of its rivals across the East Midlands.
Graham added: "We have noticed that a number of properties in Leicester are going under the hammer with London-based auction houses so we wanted to offer a genuine alternative within the region. We have now established a long term commitment to Leicester and will shortly be opening an office in the city centre."
In 2012 Graham Penny Auctions enjoyed its most successful year to date, achieving total sales in excess of £51.4 million, a 17.77% increase in total sales over its 2011 figures and more than £4 million ahead of its closest rival. So far in 2013, it has taken more than 300 property and land lots to auction and sold £25m worth of properties.
For further information about the Graham Penny Auctions Leicester auction on Thursday 24th October
call 0116 202 5048 or to register for a free property appraisal click here. 
*based on essential information group statistics. Based on lots offered, lots sold, revenue raised for 2012.