12th July 2019
Auction offers the chance to create new homes for Derbyshire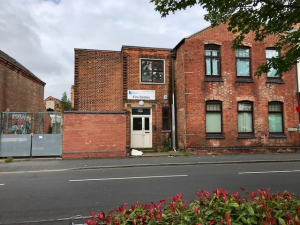 An education centre, a former tattoo studio, a period office block and building opportunities are all due to go under the hammer at the next SDL Auctions Graham Penny auction this month – and several of the lots offer the opportunity to create much-needed new homes in Derbyshire.
The East Midlands' largest and most successful auctioneer is due to hold its fourth Derby auction of the year on Thursday 25 July at Pride Park Stadium, Derby, with 56 lots being sold on the day.
They feature in the latest 64-page catalogue which includes offices, retail units, parcels of land and a host of residential properties. In addition, the catalogue showcases a further 12 properties which are available to bid on now as they are being sold by online auction.
One of the most distinctive of the room lots is an imposing three-storey Grade II-listed office building which has the potential to become homes, subject to planning permission.
15 Market Street, Castle Donington, which has a *guide price of £319,000+, is in excellent condition and tastefully decorated, retaining architectural features such as a fine staircase, period fireplaces, wooden fireside cupboards and distinctive arched doorways in some of the rooms and the main corridors.
The main building, which is vacant, previously realised an annual rental income of £36,200. However, a separate annexe behind the main building is currently let at £7,200 per year.
There are currently 15 offices arranged over three floors, including a kitchenette and toilets on each floor. The first floor also has a shower. In addition, there is further storage space in the large cellar, which is free from damp.
However, the property offers the potential for development with the removal of stud walls. Commercial auction valuer Nick Trow said: "This is a really beautiful building which could be retained as offices but, with the relevant planning permissions, could equally be developed into a spectacular family home or be split into a series of apartments, especially as there are separate gas central heating boilers installed on each floor."
In a class of its own is a former education centre which also offers the potential for development into homes. The Firs Education Centre, Amy Street, Derby, which has a guide price of £130,000+, is a two-storey property with 23 rooms, including classrooms, offices, store rooms, a kitchen and toilets.
Nick is excited about this property's potential, too: "It is in a mainly residential area and ideally located for NHS staff working at the Royal Derby Hospital. Thanks to its size and layout, it would make an ideal block of apartments or large House in Multiple Occupation, subject to planning permission."
For those who prefer to start their property projects from scratch, there are building opportunities, too, including land to the rear of 14 Bolehill Road, Bolehill, Matlock, which has full planning permission for seven generously-sized dwellings. Plans for the site, which has a guide price of £450,000+, feature two pairs of semi-detached houses and three detached houses, all with stunning views across the Ecclesbourne Valley. The existing dwelling – 14 Bolehill – requires demolishing to create access into the site.
For the smaller developer, a building plot adjacent to 10 Albermarle Road, Chaddesden, has a guide price of £29,000+ and planning permission for a three bedroomed house with full-width open-plan living kitchen diner.
Nick added: "There is always a demand for new homes, both to buy and to rent, several of the lots going under the hammer this month offer opportunities to create new dwellings, which can be extremely rewarding for the developer."
For investors who simply wish to add to a commercial property portfolio, there are several mixed-use and retail units going under the hammer, including a former tattoo studio in Ripley, which is currently let at £6,360 per year, on a five-year lease which began this month. 30 Grosvenor Road, Ripley is a lock-up shop in the town centre comprising a retail area on the ground floor, treatment room, kitchenette and WC in the basement and an office/store on the first floor.
Nick said: "Auction is a great place to find your next property project, whether that's a self-build home, a conversion or an addition to your portfolio. Our wide network of buyers and sellers know that auction is a process they can trust, thanks to its transparency and speed. There are virtually no fall-throughs and, because completion usually takes place within 28 days, you could be working on your property – or earning an income from it – before the end of the summer."
To see the full range of lots, including those being sold via online auction, please click here, where you will also find information about bidding by telephone, online or by proxy.