13th December 2016
Auction Aimee has made lots of progress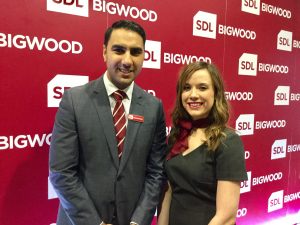 Aimee Rossiter has been promoted to assistant auction manager at SDL Bigwood.
Auctions partner Gurpreet Bassi said the promotion was in recognition of the hard work and loyalty she had shown since joining the firm as a junior in 2011.
"Aimee has risen through the ranks at SDL Bigwood and now, with colleague Perm Daley, runs the auction department on a day-to-day basis.
"This includes arranging viewings, helping to produce the auction catalogues and dealing with clients, purchasers and solicitors.
"She is also a very good mentor for the younger members of staff," he said.
And, having gained a national diploma in photography from Stratford-upon-Avon College she helps with photographs for press releases and the website.
Her career has rapidly progressed after joining the auction department in 2011 as a junior administrator following a period working in the hospitality sector.
Auctions partner Gurpreet Bassi said: "Aimee has developed into a key member of the team and is an integral part of the fantastic progress we have made during the last five years.
"She is a hard worker and is valued very highly by both colleagues and clients."
She said: "I love working for SDL Bigwood – every day is a new challenge.
"The firm has a deserved reputation for helping staff develop their skills and talents and I am thrilled that they have shown their confidence in me."