21st December 2018
Attractive buy-to-let properties sell well in SDL Auctions Bigwood December auction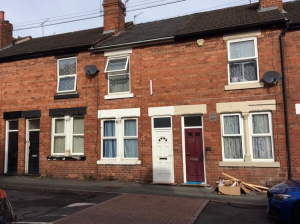 Strong bidding resulted in the successful sales of several potential buy-to-let properties in SDL Auctions Bigwood's Birmingham auction at Villa Park Stadium.
Mid-terraced houses with three bedrooms proved particularly popular and 66 Wenlock Road in Perry Barr was sold for £108,000 from a *guide price of £90,000+, while 76 St Marks Road in Tipton was sold for £81,000 from a guide price of £69,000+.
Another mid-terraced house with three bedrooms at 124 Cranbourne Road in Kingstanding was sold for £116,000 from a guide price of £100,000+ and 184 Short Heath Road in Erdington was sold for £136,000 from a guide price of £100,000+.
The SDL Auctions Bigwood Birmingham auction, which raised total sales of over £5.3 million, also saw strong competition for a three bedroomed, mid-terraced house at 54 Prosser Street in Wolverhampton that requires extra investment after fire damage. It had a guide price of £30,000+ but when the hammer  fell it sold for £57,000.
Andrew Parker, auctioneer and managing director at SDL Auctions Bigwood, said: "The auction was particularly popular for investors with buy-to-let portfolios as a number of ideal houses were up for sale.
"The excellent prices raised show just how beneficial it can be to sell properties by auction, as even houses needing repair and renovation prove popular for landlords with money to invest."
Other properties that sold well included a three-bedroomed, end-of-terrace house at 20 Brigfield Crescent in Billesley that sold for £125,000 from a guide price of £110,000-£115,000.
A two bedroomed, terraced house at 56 Brook Street in Stourbridge, also in need of refurbishment, sold for £150,000 from a guide price in excess of £135,000+.
Another house needing improvement was a two bedroomed terraced property at 172 Merridale Street West in Wolverhampton which sold for £59,000 from a guide price of £28,000-£33,000.
Tenanted properties also featured in the auction and a three bedroomed, semi-detached house at 12 Central Avenue in Cannock, with a current rental income of £6,760 per annum, sold for £65,000representing a yield of more than ten per cent.
SDL Auctions Bigwood's next auction is on Thursday 14 February at Villa Park. Anyone looking to sell under the hammer can call the team on 0121 233 5046.
* Each property is subject to a Reserve Price which may be different from the Guide Price. For full definitions see www.sdlauctions.co.uk/glossary.