3rd July 2020
Another hit for SDL Auctions – now officially the most successful live-streamed auctioneer in the UK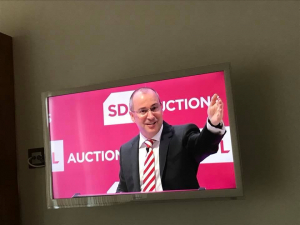 SDL Auctions has been confirmed as the UK's most successful live-streamed property auctioneer* following its latest auction.
On the 100th day since the lockdown began, the auction saw a return to the rostrum for auctioneer Rory Daly, who shared the role with managing director Andrew Parker.
Safely spread out in the head office auction studio, a team of staff handled the remote bidding, while the action was recorded for BBC's Homes Under the Hammer.
The bumper catalogue featured lots from all over the country, but the bidding started in the East Midlands, with an excellent result for the seller of a detached family house in Derby.
Occupying a large corner plot with potential to extend, 11 Cavendish Way in Mickleover attracted enthusiastic bidding and, from a **guide price of £210,000, sold for £307,000.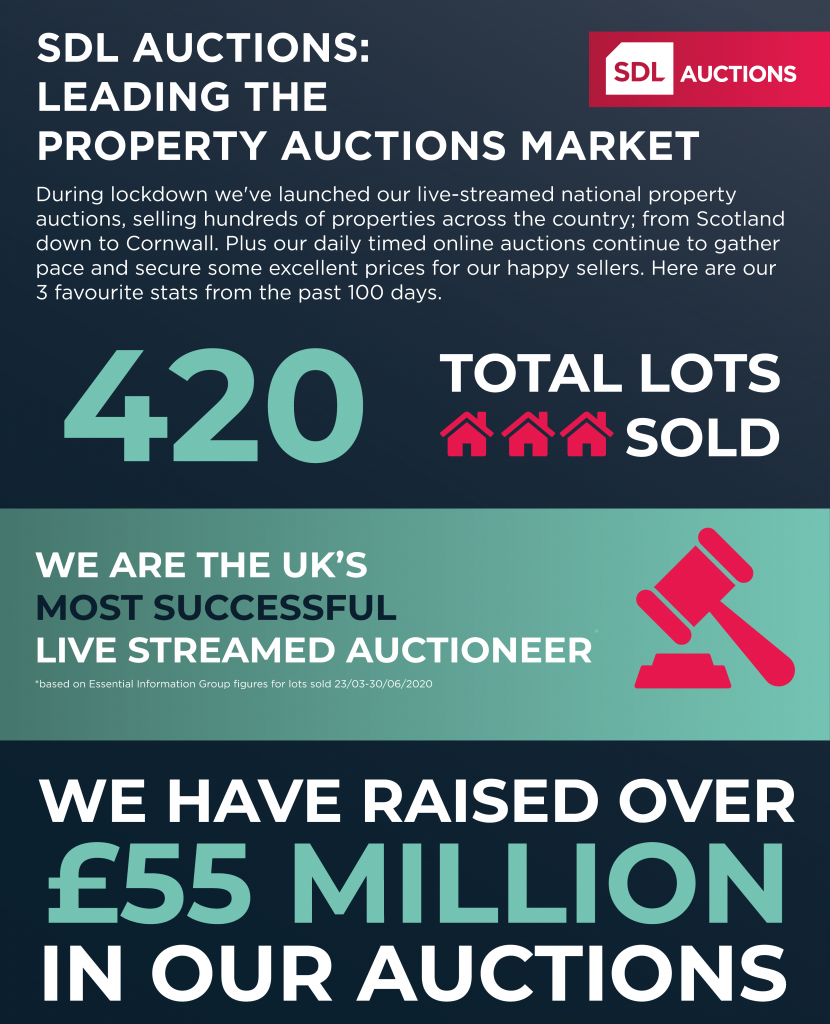 Andrew said: "This was a great result for everyone. The seller achieved a result which far exceeded the guide price, and the buyer now has an excellent family property with the opportunity to add value through refurbishment and, subject to planning permission, an extension. This is a highly desirable part of Derby, so this should prove to be an excellent investment."
Another East Midlands lot which attracted a great deal of attention from buyers was the former Magistrates' Court in Horninglow Street, Burton-upon-Trent.
The spectacular Grade II Listed building, designed in the English baroque style, retains its original features including the magistrate's bench, glass dock and a landmark leaded dome. Bidding was tense and the property sold for £525,000 from a guide price of £375,000+.
Andrew said: "This is a property with so much character and potential. It was a rare opportunity to purchase a piece of the town's history and we look forward to seeing what the new owners make of it."
In the West Midlands, a commercial property of a very different type – and condition – was another lot which proved to be much in demand. 38 Birmingham Road in Oldbury is a partly-completed mixed-use development comprising two commercial units on the ground floor and two residential dwellings on the first floor. Spirited bidding led to it being sold to a telephone bidder for £152,000 from a guide price of £75,000.
In the north of the country, terraced houses proved as popular as ever with several selling well on the day. One example was 613 Halliwell Road in Bolton, which has four bedrooms and two reception rooms, and is close to amenities and a country park. It sold for £87,000 from a guide price of £50,000+.
Andrew said: "It was a great day for both buyers and sellers. Bidding was fast and furious for many of the lots so we're grateful to our team for managing this so efficiently, to allow everyone a fair chance."
Since the start of lockdown, SDL Auctions has raised more than £55 million for sellers, providing a valuable service not just to private sellers but to estate agents who are partnering with the auctioneer in increasing numbers.
Andrew added: "Our live-streamed auctions have proved a huge success, enabling us to break down geographical barriers and sell properties far beyond our previous area of operation. We had more than 1,000 registered bidders for this auction which would be an unthinkable number of people to have in one room in the current situation so we are in no rush to return to the auction room just yet."
SDL Auctions will continue to hold live-streamed national property auctions with remote bidding only on the last Thursday of the month, with the next one taking place on 30th July. Several properties are already live on the website for the July auction with more being instructed over the coming weeks. Properties can also be sold at any time via daily timed online auctions.
To find out more about selling a property at auction, please click here or call the team on 0800 046 5454.