7th May 2020
Animal horror farm to go under the hammer – at a knockdown price of £50,000+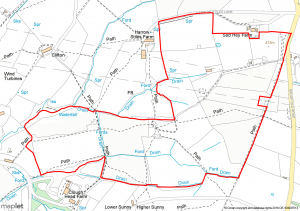 A notorious farm in Bacup which made national headlines after animals were found living in squalor is to be sold by auction.
The current occupier of Trice Barn Farm, off Bacup Old Road, was served notice to vacate last year but remains living there, making it impossible to view the farm. But despite this, auctioneers say potential buyers are lining up to bid on the property when it is sold by SDL Auctions this month.
One reason may be the *guide price. At just £50,000+, the 80-acre site represents excellent value.
Andy Thompson, head of auctions North West, said: "The farm has been causing problems for the owner for many years, which is why they are willing to accept a price way below its market value. This makes it an excellent investment opportunity because, from my experience, auction buyers are rarely put off by a property's disreputable past or current problems."
Situated close to the Lancashire-Yorkshire border towards the westerly edge of the Pennine Moors, Trice Barn Farm we believe features a three bedroomed farmhouse, steel-framed livestock building, several miscellaneous buildings and on a site of largely rough grazing land extending to around 80 acres.
The farm is conveniently situated around 40 minutes from the M60 Manchester orbital motorway and an hour's drive north of Manchester city centre. Heading north, it's about 15 minutes' drive from Burnley and approximately 20 minutes from the M65.
The property is due to be sold in SDL Auctions' national property auction, which will be live-streamed over the internet on Thursday 28th May.
It is a tried and tested method for the company, which raised £7.7 million for sellers during lockdown auctions in April, with its second national property auction attracting more than 680 remote bids.
The auction will be held behind closed doors from the company's auction studio in its head office. Managing director and auctioneer Andrew Parker will take to the rostrum while his wife, Rachael, who is the regional property manager for the East Midlands, manages internet bidding. Telephone bids will be managed by a remote team, who will convey them to the auction studio via Microsoft Teams.
Andy added: "We made the decision to carry on running auctions in recognition of the fact that many people simply cannot afford to wait for the crisis to pass. Clearly we were correct, as 115 properties were listed in our April auction and we're already taking dozens of entries for our next national property auction.
"Sellers are realising that auction is a lifeline at the moment, offering speed, transparency and certainty, with a fall-through rate of less than 2% – something that is in stark contrast with the current stagnant open market."
SDL Auctions' second national property auction takes place on Thursday 28th May. Properties can also be sold online at any time. To find out more about the best method for your property, call the team on 0161 774 7333.