10th August 2020
Ambitious investors to flock to restore impressive former church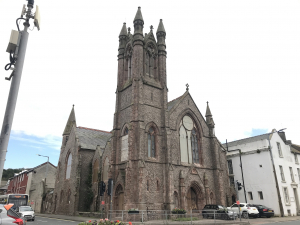 A former church in Cumbria is set to be transformed and repurposed when it is sold by auction later this month.
Experts at SDL Auctions, which is selling the property, believe the former Methodist Church on Lowther Street in Whitehaven, which has an attractive *guide price of £90,000+, has the potential to be converted to a restaurant, bar, nightclub or even to residential accommodation, subject to the necessary planning permissions.
Commercial valuer Chris Theocharides said: "This is a spectacular Gothic-style Grade II listed building with all the wonderful architectural features you'd expect to see in such a property. It's a landmark building within the town and whether it is converted into business premises or homes, it will continue to make a real statement."
The freehold property has been out of use since 1996 so requires renovation but remains packed with features such as gothic-style arches, leaded and stained glass windows, wooden panelling and vaulted ceilings. It was built in 1877 in the late 13th-century gothic style and Copeland Borough Council is keen to see a sympathetic redevelopment of the building.
Mayor of Copeland Mike Starkie has singled out the building for attention, saying it has the potential to become a real asset to the character and vibrancy of the area. He said: "I want to see the pride back in Copeland and to celebrate the great achievements which are being made, and encourage others to maximise the potential of their buildings and land. This is why I am encouraging property owners to contact Copeland Council for advice on how to renovate their buildings."
Seller Salim Ismail is also keen to see the property put back into use, after reluctantly abandoning plans to use it to house a branch of his dental practice.
He said: "We had big plans to develop this amazing property but had to put them on the backburner following flooding at our Appleby-in-Westmorland practice. We couldn't see ourselves renovating it for several years so made the tough decision to sell as it would be a shame for it to deteriorate. 
"It's such a beautiful building and I love the attention to detail, with its vaulted ceiling and carved stone faces on each pillar. I'm really sorry to see it go but am very keen to see it restored and put to good use." 
Chris added: "The restoration of the church should appeal to an ambitious developer with the vision to see its possibilities. Currently occupied by pigeons, it's an extensive building with many different rooms providing a huge amount of versatility. It's an incredible opportunity for an enterprising investor."
The former church sits on the corner of Lowther Street and Scotch Street in one of the most historic parts of Whitehaven town centre, among commercial retailers, many occupying listed buildings. On the same street is the award-winning Rum Story museum which celebrates the town's link with the rum trade, while independent shops and major retailers such Morrisons supermarket occupy the surrounding streets.
Also within walking distance are a medical centre, library, leisure centre and parks, as well as the town's revamped marketplace and 17th-century harbour, which hosts maritime festivals. West Cumberland hospital is approximately a mile away
Corkickle railway station is just 500 metres away and runs services to Carlisle and Barrow-in-Furness and there is easy road access to St Bees Head Heritage Coast and the Lake District National Park.
The former Methodist Church has a guide price of £90,000+ and is due to be sold by SDL Auctions, the UK's most successful live-streamed auctioneer** in its national property auction broadcast from its head office studio on Thursday 27th August. Since the start of lockdown, SDL Auctions has raised more than £75 million for sellers via its national property auctions and daily single-lot online auctions.
For more information about the property, or to find out about selling your own property in the auction, please visit click here or call the team on 0800 046 5454.