26th May 2021
A round-up of the property market in Q1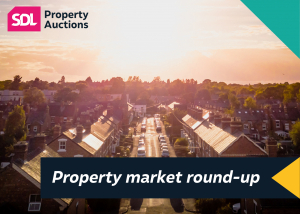 With the first quarter of 2021 having come to a close, there's no denying that there's a new sense of positivity and hopefulness in the air. With lockdowns lifted, restrictions easing and vaccinations being rolled out in their millions, it's unsuprising that the property market has seen a significant boost.
In this blog, join us as we look back over the significant events of Q1 in the property market, consider how they've affected property prices and sales, before making some estimations for the upcoming year.
Government efforts to boost the property market in Q1
Having entered the new year in a state of recovery, the government has certainly done their part in helping the housing market. Not only have their efforts, and the efforts of others within the housing industry, helped to give movers and first time buyers alike the helping hand they needed to buy property, but the schemes they've introduced have given a much needed boost to the wider housing industry.
It's easy to forget that, in shutting down parts of the housing market last year, more than just buyers and sellers suffered. Everyone that relies on this industry for their livelihood and business, such as estate agents, mortgage brokers, builders, decorators and landlords were cut off from their primary source of income and, even with government furlough schemes in place, it was an undeniably tough time for the sector.
In an attempt to keep the sector afloat in 2020 after the first lockdown, we saw the introduction of a temporary stamp duty land tax change back in July. This meant that there was no stamp duty to pay on properties up to the value of £500,000 and the result of this announcement was an increase in buyer interest. Initially, this change was due to expire on 31st March 2021 but in the Budget an extension was announced which will see the new threshold of £500,000 continue until the end of the second quarter. The hope behind this decision is that more buyers will make the most of the break in stamp duty by buying their homes prior to 30th June.
Another government scheme that was announced during the Budget was the 95% mortgage scheme. Implemented as a way to help first time buyers and movers struggling to raise a big enough deposit to meet standard expectations of 10% – 20% deposit charges, this government scheme was announced at the end of Q1 and came into effect on 19th April 2021. The effect this will have on the housing market is yet to be seen, but hopefully it will help more people get onto the housing ladder.
Rising buyer interest in Q1
Throughout Q1, there has been a surge in buyer interest that, while not entirely unforeseen, has certainly exceeded the expectations of everyone. Properties across the country are selling faster than ever, with popular property listing sites like Rightmove and Zoopla reporting a record number of website visits over the last few months. As a result of this increased interest, house prices have also seen an impressive rise. Put into numbers, the average asking price in the UK has gone up by a massive 3% compared to the Q1 last year.
While identifying exactly what has caused this huge increase in buyer interest is all but impossible, we've identified three primary motivations that can explain some of where this rush has come from.
Government schemes have gone a long way to encouraging buyers back into the fold, with current renters working hard to save up their 5% deposits in order to buy under the 95% mortgage scheme while first time buyers are making the most of the new Help to Buy equity loan scheme also introduced in April 2021.
A buyer backlog that was created back in March of 2020 continues to keep the housing market busy, with some areas seeing houses listed and sold without ever being advertised. Where this occurs, it is likely that estate agents already have prospective buyers willing to pay above market value in order to secure a sale quickly having been approached by people waiting for the appearance of a new relevant property. This is, of course, not an issue for those seeking to purchase properties by auction.
A widespread reevaluation of buyer priorities post-lockdown could also have had an impact on increased buyer appetite for homes outside of cities. With working contracts throughout the country operating on a more flexible basis, with some switching entirely to working from home and others favouring a mix of home and office work, many have sought a more remote, rural location.
Looking past Q1 to the future
Prospects for the future are looking bright as we make our way through Q2 thanks to a combination of continued buyer interest, general economic growth with the hospitality sector reopening and the introduction and extension of government led schemes. Estimates point towards this trend continuing for a while yet but, with government support being lessened at the end of Q2 with the stamp duty holiday coming to an end, now may be the safest time to join the housing rush.
If you're hoping to make the most of the current schemes that were announced in Q1 before they come to a close, in particular the stamp duty holiday, now is the time to start looking. With deadlines fast approaching, even with increased speed of sales in the open property market, buying a property by auction remains the best way to ensure a sale is finalised quickly.
At SDL Property Auctions, sales are agreed on the day of the auction and contracts are exchanged as soon as the hammer falls so you can be confident that, when buying a property in one of our auctions, you aren't in any danger of being gazumped. Start searching for your dream property today by using our Property Finder.